Arkady Babchenko, a Russian journalist who voiced criticism about Russia's "wars of aggression" in Georgia, Crimea, Eastern Ukraine and Syria, was reportedly shot three times in the back at the entrance to his Kyiv apartment building in a contract-style killing Tuesday. Found in a pool of blood by his wife, Babchenko died before paramedics could get him to the hospital.
Ukrainian police believe he was likely targeted for his work. "The leading and obvious line of inquiry is that of his professional activities," Kyiv police chief Andriy Kryshchenko told the Interfax Ukraine news agency
Babchenko's murder was quickly condemned in Ukraine and across Europe. Ukrainian Prime Minister Volodymyr Groysman accused "the Russian totalitarian machine" of murdering Babchenko, telling his supporters in a social media message on Tuesday that the Kremlin had not forgiven him for "his honesty and principled stance."
British Foreign Secretary Boris Johnson expressed his displeasure on Twitter, saying: "Appalled to see another vocal Russian journalist, Arkady Babchenko, murdered. We must defend freedom of speech and it is vital that those responsible are now held to account."
Harlem Desir, the representative on media freedom for the Organization for Security and Cooperation in Europe (OSCE), said he was "outraged by this horrific act."
"I call on the authorities to swiftly and thoroughly investigate the circumstances of this assassination and to bring the perpetrators and those who ordered it to justice."
Meanwhile, Russia's FSB intelligence agency on Wednesday said that suggestions that it was behind the killing were nonsense and a provocation, according to the Interfax news agency.
Russian Foreign Minister Sergey Lavrov also dismissed the accusation, calling it an unfortunate reflex to blame Russia for such crimes. He said this was possible because Ukraine's "Western mentors" need the country "to advance Russophobic views and create a difficult situation for our country in every way." Russia offered its assistance in investigating the crime and though it denied any role in the murder, the Kremlin noted Kyiv had become "a very dangerous place" for journalists, seemingly a reference to pro-Russian journalist Oles Buzyna who was killed in the capital in April.
Concerted campaign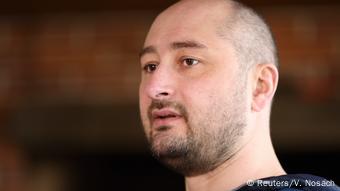 Babchenko had been living in Kyiv since 2017
Babchenko left Russia in 2017, facing calls for his citizenship to be revoked and a growing number of threats for voicing his indifference to a December 2016 plane crash that killed a Russian military choir en route to Syria to perform for air force pilots.
Writing on the subject, he called Russia an "aggressor" and criticized the air force's indiscriminate bombing campaign in Aleppo.
Read more: Opinion — Easy game for Vladimir Putin
Babchenko was accused of lacking patriotism, something he called ironic considering he fought for his country in both its wars in Chechnya between 1994 and 2000. Nevertheless, pro-government politicians began to denounce him and call for him to be jailed for his views. This was followed by a media campaign against him on state-run television.
Death threats
Shortly thereafter, aggression toward Babchenko began to snowball on social media platforms, and he no longer felt he could stay in the country. He said his address had been published online and that he and his family had received thousands of threats. He also pointed to similar incidents in which colleagues had been brutally beaten as a result of such online campaigns.
Babchenko served as a war correspondent after leaving the army and wrote a book about his time in Chechnya titled, "One Soldier's War." He went on to write for a number of outlets, including the newspaper Novaya Gazeta. Most recently, he had worked as a host at the Crimean Tatar TV station ATR.
Over the last several years dozens of Russian journalists have been severely beaten or killed for their open criticism of the governement. In most cases, the perpertrators walk free and those behind the attacks are never found. Babchenko was the third journalist to be killed in Kyiv in four years.
mm,js/cmk (AP, Reuters)
Every evening at 1830 UTC, DW editors send out a selection of the day's hard news and quality feature journalism. You can sign up to receive it directly here.