"Today at 13:20 local time (10:20 UTC/GMT), two unidentifiable men in masks shot journalist Oles Buzyna," Ukraine's Interior Ministry said in an online statement.
Anton Herashchenko, an adviser to the Ukrainian interior minister, published on Facebook that Buzyna was killed on Thursday afternoon by shots from a passing car.
He also underlined that Buzyna was a key witness in a criminal case related to a pro-Russian rally in Kyiv organized to counter the massive pro-Western protests on Maidan square. The protests eventually led former President Viktor Yanukovych to flee the country in 2014.
"It seems the shooting of witnesses of the Anti-Maidan affair continues," Herashchenko said in his Facebook post.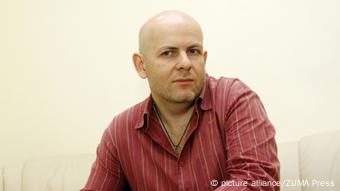 Oles Buzyna had a short stint as Segodnya's editor-in-chief
The shooting comes a day after Oleg Kalashnikov, a lawmaker from Yanukovych's Kremlin-friendly party, was found dead on the landing of his home in Kyiv.
The minister said the killings "could be" orchestrated by Russia in order to "destabilize the situation in Ukraine from within."
Oles Buzyna, 45, was a supporter of ex-President Yanukovych. Buzyna was known for his pro-Russian opinion articles published in a leading daily, which belongs to the media empire of Ukraine's richest businessman, Rinat Akhmetov.
Akhmetov and Buzyna ran in last year's election for a parliamentary seat for the Russian Bloc party, but they were not elected.
Russian President Vladimir Putin referred to Buzyna's death in his annual call-in show, saying that this murder had been politically motivated.
"This is not the first assassination. There is a whole series of such killings in Ukraine," Putin said.
jil/msh (AP, AFP, Reuters)