While Russia's athletes - or at least those allowed to take part - prepare for the Rio Olympic Games, some of their compatriots are getting a much easier ride it seems, albeit in a completely different sporting arena. We're talking Crufts here - the internationally renowned dog show - and others like it across Europe where certain Russian pedigree entrants fly in aboard their very own private plane.
The dogs in question are corgis, favored by the Queen of England and the hobby of Olga Shuvalova, the wife of the deputy prime minister, Igor Shuvalov. His lavish lifestyle hasn't gone unnoticed as he rents a castle in Austria and has an £11 million (13 million euros, $14 million) apartment near St. James Park, an exclusive area of London.
A dog's life
This addiction to luxury must be one of those rare conditions that can cross species as, according to one of the dog's 'managers,' they can't travel in an ordinary plane in business class "because it's just not that comfortable." So they get to go in the family's Bombardier private jet.
The revelation comes from opposition activist Alexei Navalny, whose staff rang Shuvalova to confirm if the plane had been listed on the family's declarations as required under Russian law. She said everything was in order, adding she had no problem with using the plane as transport for her canine companions.
While she said she used various means of transport she admitted, "Yes, sometimes we use the plane to take our dogs to international competitions, but by the way," - and here's the good bit - "we're representing Russia on those trips."
And indeed her dog Andvol Tsesarevich did come second out of three entrants in the minor puppy dog category at Crufts last year. I don't recall a ticker-tape parade for him on their arrival back to Moscow, but perhaps I blinked and missed it.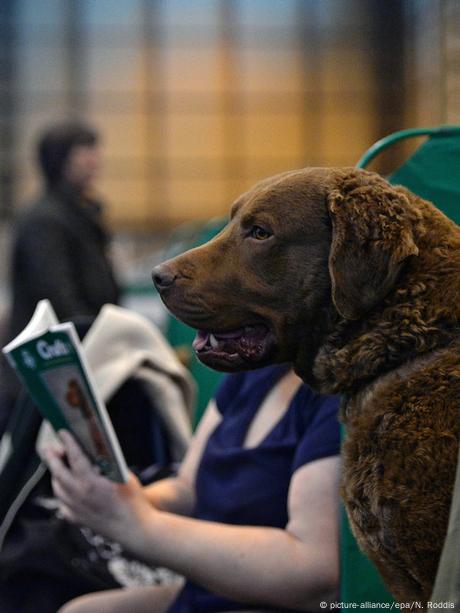 It can be a dog's life but not for the pets of Russia's elite
A question of breeding
Meanwhile the dogs' owners seem to have automatically been upgraded from proletarians under communism to members of the nouveau-riche upper class, complete with their own family coat of arms. Navalny says the Shuvalov's have owls on theirs.
Navalny adds that the plane was also used to transport two-legged passengers, including Shuvalov himself, to official engagements at least 13 times in the past year and that it made 18 trips in a year to Salzburg so he could visit the castle.
He estimates the costs of the return flights to the castle would amount to more than £1 million a year, but the politician's declared income is £600,000 and that includes his official salary of £108,000.
It's said Shuvalov also owns a $7 million apartment in Moscow, and now one of his parliamentary colleagues, Dmitry Rozagin, is embroiled in a scandal, accused of buying a 500 million ruble or $7.6 million apartment in Moscow when his combined family worth is said to be a mere 48 million rubles or $730,000. That would be one hell of a mortgage, and transparency.org.ru, an organization that dedicates itself to rooting out corruption, seems to think there's something amiss in this acquisition. Dmitry's son, Alexei, is a United Russia deputy and was recently appointed to the position of deputy director of the Property Department of the Ministry of Defense - a ministry that has previously been rocked by property scam scandals.
Medvedev's difficult days
All of this is hitting headlines at around the same time as Prime Minister Dmitry Medvedev has had another difficult day, this time taking questions from a teacher about why he and his colleagues were paid as much as 40,000 rubles a month less than policemen, who he says take home in excess of 50,000 rubles or $760 a month. Medvedev's answer was less than sympathetic.
"It's your calling," he said. "There are many other options for making money, like going into private business, but you didn't choose that path."
Silly teachers for doing what they think is a worthy job and expecting to be rewarded adequately for it, while they're earning as little as $152 a month. That's $7.60 a day. Of course, if they had all gone into business, who would teach the children?
The comments have sparked outrage on social media and a petition calling for his resignation is allegedly doing the rounds.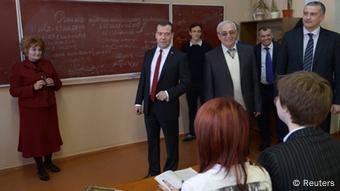 Medvedev seems to have a way with words
A few weeks ago he made a similar faux pas after being cornered by pensioners in Crimea who were complaining their stipends weren't enough to survive on. Medvedev simply stated he was sorry, but there's "no money, hang in there."
And there are a lot of people just 'hanging in there.' At the end of 2015 there were 19.2 million Russians - or 13.4 percent of the population, living on less than 9,452 rubles ($143) a month, the poverty line as determined by the Russian government. The figure represents a 20-percent increase from the previous year. To be fair, it is half the rate that it was when President Vladimir Putin came to power in 2000, but it must be deeply disturbing for the government to see it growing at such an alarming rate - although probably not as disturbing as it is for those trying to survive on it - like teachers.
Clearly though, there is plenty of money at the other end of the scale and seemingly no shame in displaying it. Navalny labels this exhibitionism and sense of entitlement as a "disorder" - a disorder in which they really do believe they're "Best in Show," and can get away with it.