Russia's President Vladimir Putin warned on Friday that Russia is considering measures to "end threats" from a new US missile defense shield, but he added that Moscow will not enter into a new arms race.
Russia "will do everything needed to ensure and preserve the strategic balance, which is the most reliable guarantee from large-scale military conflicts," Putin told defense officials during a televised meeting.
Despite US assurances to the contrary, Putin said the anti-missile shields were not defensive systems. "They are part of the US strategic nuclear potential deployed on the periphery, in eastern Europe," he added.
"Now, after the deployment of those missile defense elements, we will have to think about how we can fend off the threats to the Russian Federation's security," Putin said.
Putin also dismissed the US' claims that the shield is intended to deter missiles from Iran, not aimed against Russia.
On Friday, Poland broke ground on the northern section of a defense site launched in Romania one day earlier.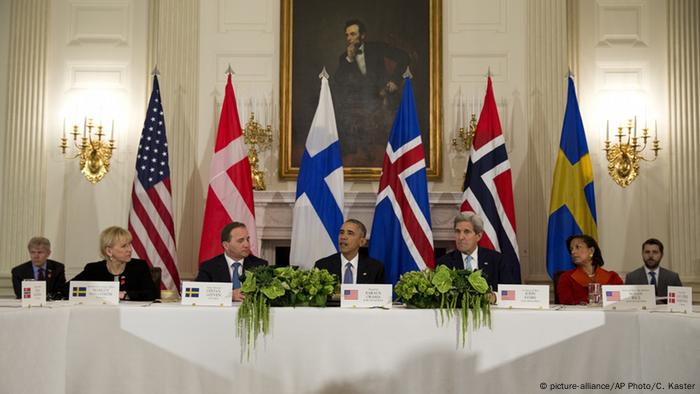 President Barack Obama joined by the leaders of five Nordic countries
US condemns 'Russian aggression'
For his part, US President Barack Obama criticized Russia's "aggressive military presence" on Friday, while hosting leaders from five Nordic countries at the White House.
The US released a joint statement with the leaders of Denmark, Iceland, Finland, Sweden and Norway which voiced concerns about Russia's "nuclear posturing, its undeclared exercises, and the provocative actions taken by Russian aircraft and naval vessels."
Obama also said that although the US is willing to negotiate with Russia, Washington is prepared to counter possible aggression from Moscow.
"We will be maintaining ongoing dialogue and seek cooperation with Russia, but we also want to make sure that we are prepared and strong. And we want to encourage Russia to keep its military activities in full compliance with international obligations," he said.
Russia is considering stationing Iskander missiles at its western outpost
Potential Russian missile responses
After meeting with Putin, Dmitry Rogozin, a deputy prime minister in charge of military industries, said Russia will use military technology that would allow the country to "neutralize any threat with minimal resources," but he didn't elaborate further.
The Russian military has also discussed stationing its state-of-the art Iskander missiles in Russia's Baltic outpost of Kaliningrad, which borders NATO members Poland and Lithuania.
The Iskander missiles have a range of up to 500 kilometers (300 miles) and would place most of Poland in reach if deployed from their westernmost outpost.
The two US missile interceptor stations in Poland and Romania are part of NATO's larger European shield, which is set to become fully operational by 2018.
The stations rely on radars to detect ballistic missile launches into space. Sensors then measure the rocket's trajectory and attempt to destroy it in space before it re-enters the atmosphere. Missile interceptors can be fired either from ships or from ground sites.
rs/jm (AP, AFP, Reuters)