The presidents of Turkey and Russia agreed on Monday to declare Syria's Idlib province a "demilitarized zone," with the aim of halting the Syrian government's assault on the rebel-held region.
The agreement marks a major diplomatic victory for Turkish President Recep Tayyip Erdogan, who was eager to prevent a major Syrian government assault, backed by Russian air power, on the last remaining rebel stronghold in Syria.
What's in the deal?
As part of the agreement:
Russia and Turkey will establish a 15-20-kilometer (9-12-mile) demilitarized zone around Idlib province by October 15
Radical rebel groups, such as al-Qaida-linked Hayat Tahrir al-Sham, will be ordered to leave the zone.
The Syrian government will gain access to a key highway passing through Idlib that connects the north of the country with other major cities.
Both Turkish and Russian troops will patrol the demilitarized zone.
'Serious result'
Russian President Vladimir Putin hailed Monday's deal as a "serious result," adding that "Russia and Turkey have confirmed their determination to counter terrorism in Syria in all its forms."
Putin also said the agreement would go some way in ending Syria's bloody seven-year civil war. "It is our common belief that the practical realization of the planned steps will provide an additional impulse for the process of a political settlement of the Syrian conflict," he said.
Erdogan said the buffer zone was crucial to preventing a "big humanitarian crisis."
The Turkish president added that the "the opposition will continue to stay in the areas they are in."
"In return we will ensure that radical groups, which we will designate together with Russia, won't be active in the relevant
area," he said, referring to jihadi groups.
Read more: What is Iran's role in Syria if Assad wins the war?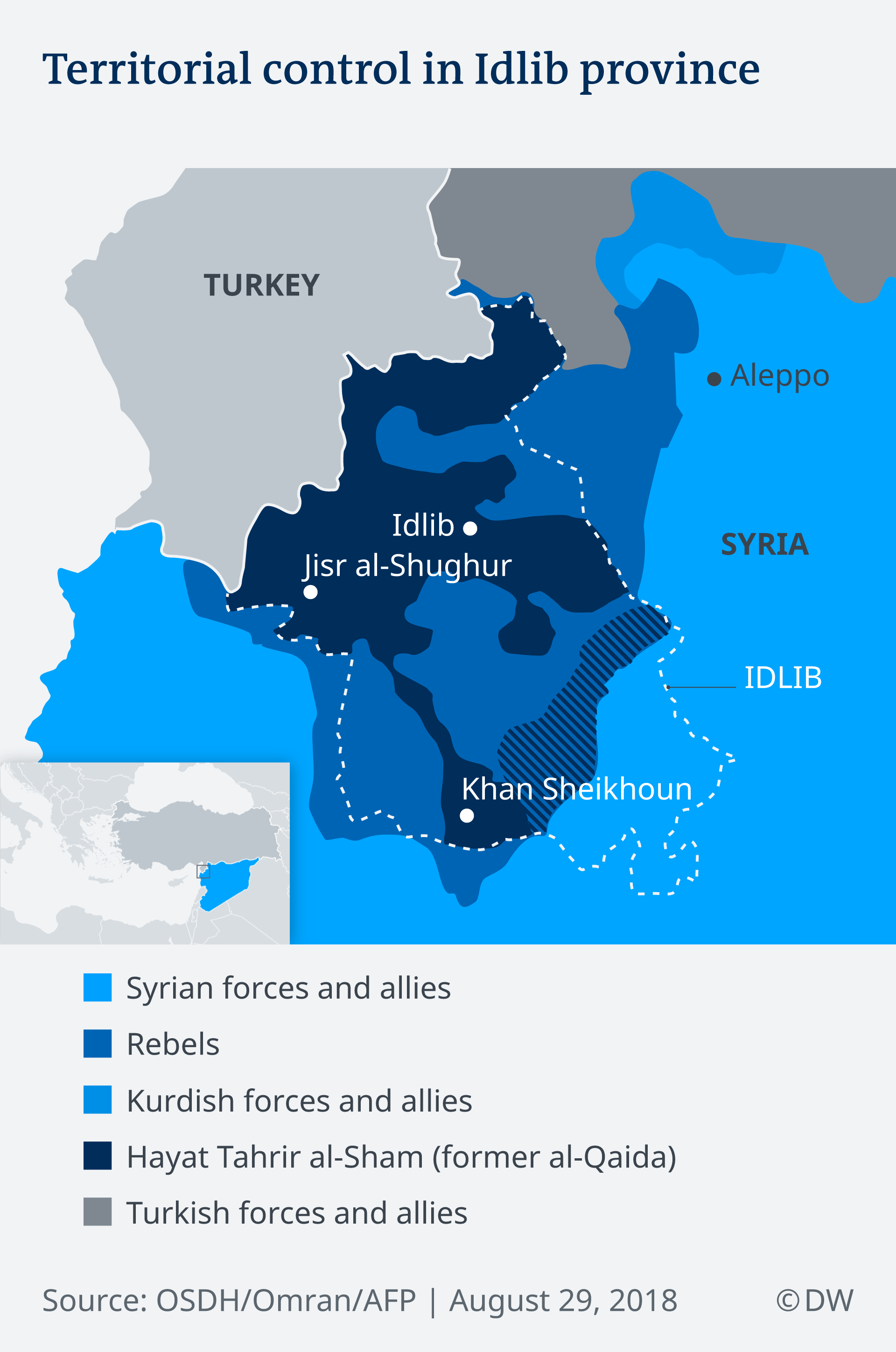 Turkey's diplomatic win: The creation of a demilitarized zone marked a significant U-turn by Putin, who just last week during talks in Iran dismissed Erdogan's calls for a ceasefire. According to the exiled Syrian opposition, Russia's decision to abstain from the offensive represented a diplomatic success for Turkey and the United States, who had also warned against further strikes on Idlib.
Bloodbath averted: The threat of a Syrian onslaught on Idlib had prompted several countries, including Germany, to warn of a "humanitarian catastrophe" in the region. Despite coming under almost nonstop bombardment for several years, the area is still home to some 3 million Syrians, about 60,000 of whom are believed to be rebel fighters. Turkish officials also feared that an attack on the rebel bastion would trigger a mass exodus from Idlib and into Turkey.
'Hotbed' for terrorism? The Russian government has repeatedly described Idlib as a "hotbed" for terrorism, even claiming that rebel forces were preparing a chemical attack that would ultimately be blamed on the Syrian regime. Turkey, however, has criticized Syrian President Bashar Assad's government for using the presence of jihadis as pretext for a potential onslaught.
Syria still determined to wipe out HTS: A key part of Monday's deal appeared to be Turkey's agreeing to order the evacuation of HTS forces from Idlib. Earlier on Monday, Syria's ambassador to the United Nations in Geneva indicated that the government would continue its onslaught against the group.
Each evening at 1830 UTC, DW's editors send out a selection of the day's hard news and quality feature journalism. You can sign up to receive it directly here.
dm/rc (AP, AFP, dpa)