Russia 3 - 1 Egypt
(Ahmed Fathi OG 47', Cheryshev 59', Dzyuba 62' - Salah pen 73')
Russia's much maligned team continues to impress now that they're in action on home turf at the World Cup.
After a hard-fought first half, the best chance being a Mohamed Salah near miss, Russia were merciless at the start of the second period. First, Ahmed Fathi was unfortunate to redirect an off-target shot into his own goal, and then Russia's attack pounced.
Only their second goal was the result of a well-worked move down the right flank. But immediately after that, with Egypt still reeling, the hosts' favorite means of attack finished their opponents off. Throughout the game, Russia had been looking for 1.96-meter tall target man Artem Dzyuba in the middle. Just after the hour mark, Dzyuba brought the most hopeful and innocuous of balls under control, beat his man and then the keeper to find the bottom corner.
Mohamed Salah was able to open his World Cup account from the penalty spot but it proved scant consolation.
With no points from two games, Egypt are highly unlikely to progress, despite not yet being mathematically eliminated. Russia, meanwhile, should surely qualify with 6 points from two games and a goal difference of plus-seven to go with that.
You can re-live the game as it happened below in our minute-by-minute coverage.
FULL TIME. Russia beat Egypt. Nothing's certain, but Russia are all-but guaranteed a spot in the next round, while Egypt's hopes are practically dashed.
90+4' Russian keeper Igor Akinfeev has the ball in his gloves. Just counting down the seconds now.
90+3' Tempers flare after a foul on Warda, who gets straight up and wants to continue the discussion. There's no time for such shenanigans though.
90+1' Four additional minutes to be played. Egypt need two in a hurry.
90' Loose ball bobbles free for Amir Warda on the right flank but he scuffs it wide.
88' A shot from Salah is well off target. Can such a prolific season really be followed by a bust at the World Cup?
85' The home team look very much in control again. Time is increasingly short for Egypt and Russia have had more of the ball of late.
78' Russia have taken the pace back out of the game nicely since conceding that goal. Both sides continue trying to swap shirts with their opponents whenever jostling for position in the box. Most recently, with an Egyptian penalty appeal waved away. It must have been a challenge for the ref to let everything go this evening.
75' Fifteen minutes for Egypt to salvage at least two goals and their World Cup hopes. Is the game back on?
73' GOAL! Mo Salah hammers it into the top corner.
73' The video assistant signals that it's a penalty. Mo Salah to take it.
72' Penalty Egypt? No, it seems it's a free kick. Although, it looked rather inside the box from the TV screens.
69' Having taken three body blows in quarter of an hour, Egypt are now responding well, pushing forward and seeking to at least make the hosts' lives difficult.
67' Egypt almost claw one back. Salah laid it square for Trezeguet, whose shot missed only by millimeters.
65' Robert Lewandowski is a poor man's Artem Dzyuba. Discuss!
62' Merciless. Ruthless. And out of absolutely nothing. A hit-and-hope long ball seeks out Dzyuba. He manages to win control of the ball, beat his man, and then the keeper. Russia are now all but guaranteed a spot in the last 16, Egypt are in all sorts of trouble.
62' GOAL! Three-nil Russia, Dzyuba finishes it off!
59' Another goal from a cross, after some fine work down the right flank. Vilareal's Denis Cheryshev has three goals from two games in the tournament so far. He was well placed to finish the low cut-back first time, beating El-Shenawy at his near post.
59' GOAL Russia! Denis Cheryshev.
56' The ball falls at Salah's feet in Russia's area, but his shot is blocked. The subsequent corner goes right across the face of goal; nobody was in a position to finish it off.
47' Russia's goal came, as it had to, from a cross. The delivery was punched clear by keeper El-Shenawy, but that fell to Roman Zobnin on the edge of the box. Zobnin's follow-up shot was poor. Ahmed Fathy and Dzyuba were wrestling for position in the area, and an off-balance Fathy redirected the off-target shot past his keeper. That's the fifth own goal of the World Cup.
47' GOAL Russia!
46' Trezeguet takes a Dzyuba elbow to the jaw, in what looked like a painful start to the second half. No malice in it from the big striker, though.
46' Off we go again!
HT analysis: No breakthrough yet, but plenty of willingness demonstrated by both sides. Russia sticking to its game plan of moving the ball wide and looking for target man Artem Dzyuba in the area. Egypt, meanwhile, are playing like a team in need of a result, pushing forward without fear against Russia's well drilled and physical back line. Mo Salah has not had room to tie his laces, but that hasn't stopped him from missing the opening goal by little more than a gnat's wing late in the period.
HALF TIME. Ref calls time right on the stroke of 45 minutes.
42' Chance for Salah, after a swift Egyptian attack. He turned his man to get the ball back on his favored left, then curled it just inches wide of the goal. Among the better chances of the half, to be sure.
38' What's tall, central and a constant target for Russia? That's right, Artem Dzyuba. The FC Arsenal Tula striker is leading the line for Russia tonight, and he's a big boy at 1.96 meters (about 6 foot 5 inches). No wonder Russia are trying to pick him out with aerial deliveries at every opportunity.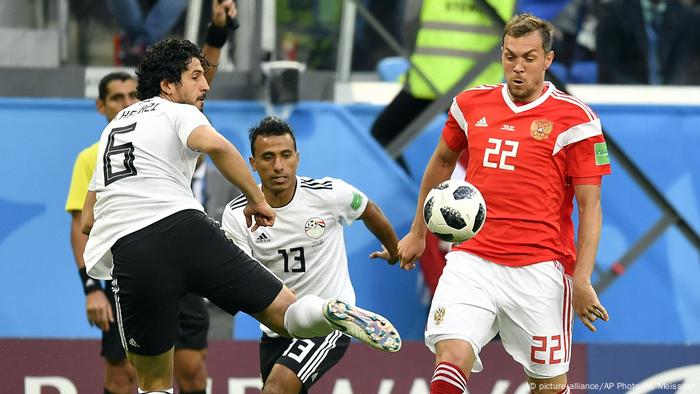 Russia are hoisting a lot of high balls in Artem Dzyuba's direction
32' What's small, speedy, and constantly monitored by the Russians? That's right, Mohamed Salah. He's the constant focus of immediate and physical pressure when he gets on the ball. It's been forcing him to turn provider for others. Rather like Sadio Mane's lack of impact for Senegal earlier, watching Liverpool attackers play by themselves is a stark reminder of how Salah, Mane and Roberto Firmino feed off each other at club level.
24' Salah feeds Trezeguet once more, but his first-time shot is blocked by a defender.
22' If Russia had a ruble for every cross so far it would probably go some way to recouping the cost of hosting the tournament. All the hosts' attacks are coming from wide areas. Now, time to work on better deliveries from the flanks...
18' Denis Cheryshev tries his luck from distance for Russia, blasting it just over the bar. Looks like the keeper had it covered.
16' Trezeguet goes very close for Egypt. Play opened up for the left winger, and he tried to cut inside and curl one to the far corner with his right foot. Did not miss by much. Best chance of the game so far.
15' Egypt's first chance from a corner, but the header's deflected wide, as Russia concede another corner.
10' Russia are keeping the tempo high after their demolition of Saudi Arabia. Strong start to the match, consistently getting into good positions to cross.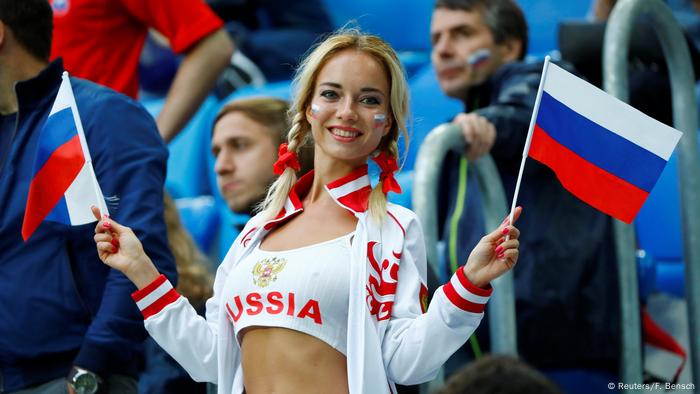 Russia could effectively book their place in the next round with a win tonight
6' Corner Russia. Taken short. A good cross when it's eventually delivered and veteran Sergei Ignashevich heads the ball tamely into the keeper's arms.
4' It's been a cagey start, with neither side really penetrating the final third. Nominal right-winger Salah is playing a role akin to his one with Liverpool, often staying furthest forward when Egypt do not have the ball, hoping to use his pace on the counterattack.
KICK OFF!
19:45 Russia and Egypt go toe to toe in Vladimir Putin's hometown of St. Petersburg, with the hosts eyeing an early ticket to the knockout phases after their 5-0 demolition of Saudi Arabia on opening night.
Egypt, meanwhile, are in need of points after their defeat to Uruguay.
Here's how the two sides will line up: