Russia, Iran and Turkey agreed Friday to jointly patrol a safe zone around Syria's Idlib province, making it the fourth such area created by the troika in the war-torn country.
A joint statement issued after two days of talks in Kazakhstan said the three countries agreed "to allocate" their forces to patrol the zone covering rebel-held Idlib province and parts of the neighboring Latakia, Hama and Aleppo regions.
The sixth round of talks in the Kazak capital, Astana, concluded that each country would send 500 observers, with the stipulation that the Russian participants will be military policemen.
The observers' mission will be to prevent clashes between "the [Syrian] regime and the opposition forces, and any violations of the truce," according to a statement from Turkey's Foreign Ministry.
Idlib province lies in northwest Syria on the border with Turkey. It is primarily controlled by a rebel alliance led by the former al-Qaida offshoot Nusra Front (pictured above).
During an interview with the Al Manar TV station in Astana, Iranian Deputy Foreign Minister Hossein Jaberi Ansari said the "joint presence" in Idlib referred to a "secure cordon" with checkpoints.
Russia and Iran have been powerful allies behind Syrian President Bashar al-Assad during the six-year-long civil war while Turkey has supported some of the rebel forces fighting to overthrow him.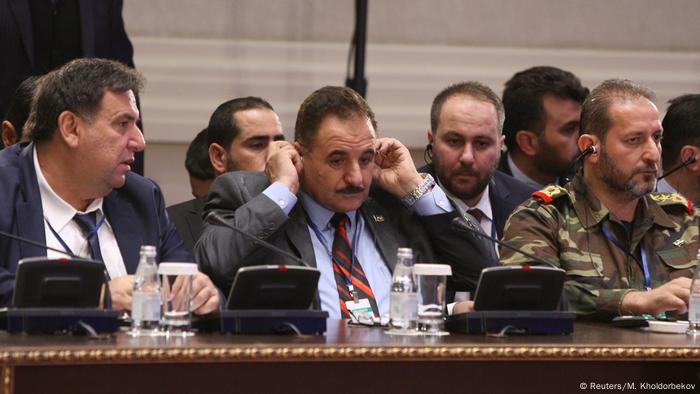 Ahmed Berri, chief of staff of the rebel Free Syrian Army, at the latest round of talks in Astana, Kazakhstan
Genuine peace appears far-off
"This announcement of a de-escalation zone in Idlib constitutes the final stage of the realization of the memorandum signed in May," the Turkish Foreign Ministry said. It added that the agreement reached in the spring had brought a significant decline in violence.
Read more: Russia, Syria announce ceasefire for eastern Ghouta rebel enclave near Damascus
Critics accuse the trio of outlining a plan for the de facto partitioning of Syria, but the three countries said Friday that the zones were temporary, although their existence could be extended beyond the initial six-month term.
"With this latest development, the memorandum is making a significant contribution to providing necessary conditions to further the political solution process going on in Geneva under UN monitoring," Turkey's Foreign Ministry said.
Read more: Syrian ceasefire as Russia announces de-escalation zone near Homs
But the United Nations envoy for Syria, Staffan de Mistura, said more needs to be done. He called on the trio to "bring the momentum of Astana" to broader talks on finding a political solution to the war that the UN has hosted without much success in Geneva.
"No de-escalation can be sustained without a comprehensive political process, and that is based in Geneva," he said.
Some observers have viewed the Astana process as a means for Russia, Iran and Turkey to keep the West on the sidelines of any resolution to the Syrian war that has already claimed over 330,000 lives.
bik/sms (AFP, AP, Reuters, dpa)