The Russian Defense Ministry on Thursday announced that a new "de-escalation" zone had been agreed north of the Syrian city of Homs.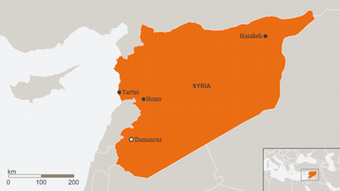 Moscow said it had struck the deal with rebel forces it described as "moderate"
Ahead of the truce going into effect, Russian Defense Ministry spokesman Igor Konashenkov said "units of the moderate opposition and government forces will completely stop firing."
Konashenkov said the truce applied to "all types of weapons."
The zone is the third that are planned in Syria as part of a Russian-led plan to halt fighting between President Bashar al-Assad's force and rebels.
Read more: Are US and Russia inching toward confrontation in Syria?
Konashenkov said Russian military police would set up checkpoints along the boundaries of the zone dividing the two sides, as well as observation towers.
The new de-escalation zone takes in some 84 settlements inhabited by more than 147,000 people. Konashenkov said the truce had been agreed upon at talks in Cairo on July 31.
Towns in the area affected were among the first to fall into rebel hands in 2012 after a revolt against Assad's rule turned from street protest into open armed conflict.
Read more: Dire conditions in Shatila mirror refugees' lack of perspectives
Under the terms of the ceasefire, President Bashar Assad's airforce will no longer be able to fly over the zone.
Three down, one to go
After the two safe zones were already established, Russian Foreign Minister Sergei Lavrov last week took a swipe at former US President Barack Obama's administration, saying it had been "incapable of separating terrorists from the normal opposition in Syria."
"Only through the concept of safe zones are we now getting results in this area," said Lavrov.
Read more: Children survive 'Islamic State' hungry and traumatized
Russia last month reached an agreement with the United States and Jordan for a ceasefire to be established in another southern zone, where Russian military police have been deployed.
Under a second agreement between Russia, Iran and rebel-backer Turkey in July, Moscow also set up checkpoints and observation posts in an area covering conflict-torn Eastern Ghouta near Damascus.
As part of a plan worked out between Russia, Iran and Turkey at peace talks in Kazakhstan, another safe zone is to be established in the northwestern Idlib region. However, negotiations about that zone have been hampered by conflicting interests between the international powers.
rc/rt (AFP, AP, Reuters)