"Look, he is walking again!" Hanan Mohammed, 43, smiles, setting her two-year-old down on his skinny legs. The family of three recently escaped the Old City of Mosul, where fighting had been going on for weeks, and food and water had been scarce for months.
"Daesh left us hungry," she says, using the local abbreviation for the self-styled "Islamic State" (IS) militant group. "There was nothing to buy, and what was there was very expensive." That's why she could not feed her children and lost a six-month-old baby to malnutrition. Her son had started walking, but stopped again for the same reason.
Read more: Iraqi armed forces out for revenge in Mosul
The single mother of two small children found refuge in Salamiyah, one of the newer camps for internally displaced people (IDPs) from Mosul. Many here have some connection to IS. Mohammed's husband was killed in the shelling - after she divorced him, possibly because he was a member of the militant Islamist group. She and her children lived with her parents and were moved by IS to serve as human shields. There was no water, no food, and there were constant bombardments. Those who tried to escape were killed by IS.
Children were as much victims of the battle as the grown-ups, or perhaps even more so because they had no choice. The camp houses hundreds of malnourished children, says Kelly Nau of the aid organization Samaritan Purse. She treats the children with special powdered food and teaches their mothers about the positive effects of breastfeeding in a country where most mothers think that after 40 days milk formula is better than their own milk.
Read more: Amnesty says US-led coalition violated international law in Mosul
About five percent of the children from Mosul are malnourished, many severely, as well as many of the babies under six months. Like Hanan Mohammed, many mothers lost babies. There was hardly any water other than from the river or the wells, and milk powder was no longer available. "I have seen cases that I had never seen before, not even in Sudan or Yemen," Nau says.
Monsters, corpses and bombs
But malnutrition is hardly the only problem facing children in Mosul, as many carry the scars of the violence, killing and air strikes they witnessed. "Some 650,000 boys and girls have paid a terrible price and endured many horrors over the past three years," while Mosul was occupied by IS, said Hamida Ramadhani, UNICEF's deputy representative in Iraq, in a press release.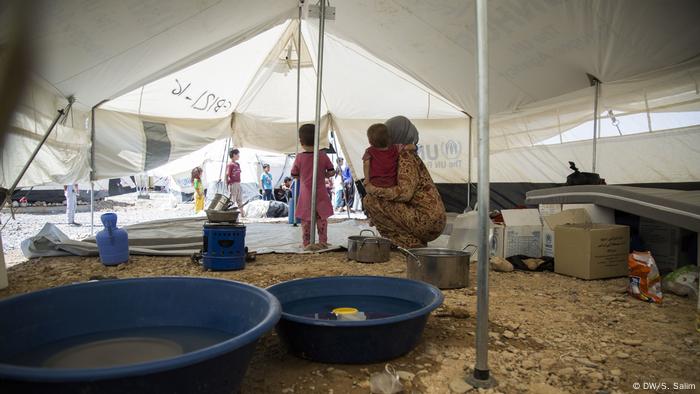 One of Hanan Mohammed's children died and another stopped walking from lack of food
In the later stages of the battle for the old center of Mosul, aid organizations have seen an increase in the number of unaccompanied children arriving at medical facilities and reception areas. Some had been trapped under the rubble and had stopped eating because of the smell of death around them before they were saved. Some babies that were brought to them had been found alone in the debris, Ramadhani said. A doctor in a hospital facility in Western Mosul suggested in an interview with the BBC that these were babies belonging to local IS wives whose husbands had been killed and who were trying to rid themselves of their past with the group.
Recently a Chechen girl was found wounded in the rubble, the daughter of a Chechen fighter who was killed. The fate of these foreign children looks bleak as the hate directly toward IS boils over in Iraq and Syria. These children will likely be victimized and end up in the special, closed camps set up for local IS families.
Read more: Opinion: 'Islamic State' jihadism could live on
Yazidi children who were kidnapped three years ago by IS have also been found, all deeply traumatized. Ramadhani pointed out that the deep physical and mental scars children acquired during the occupation and the battle would take time to heal. It was an "unbearable reality," the title of a report by the aid organization Save the Children based on research conducted among Mosul children in two IDP camps.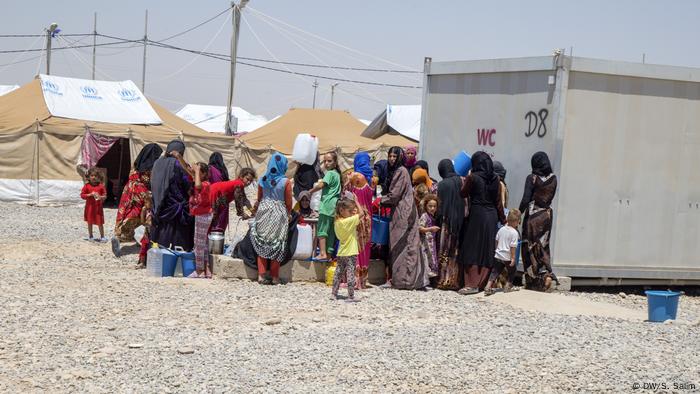 Children could be traumatized for life after their experiences in occupied Mosul
The children told researchers about their lives under IS rule and their escape from the Old City of Mosul, talking about monsters, dead bodies in the streets, bloodied faces and bombs falling on their homes. Researchers say many children still fear new attacks from the group and have nightmares that haunt them during the day.
Children unlike children
Most noticeable is that these children are hardly able to act like children and often show "robotic behavior," says Eileen McCarthy of Save the Children, who worked on the report. "They are quiet and calm, and when you ask them what is positive for them, they will say: to be polite and abide [by] the rules."
Read more: Iraqis wonder what will follow 'Islamic State' in Mosul
The majority of children involved in her research have lost a family member, suffer from nightmares and frequently become aggressive. While aid workers try through art and games to help the children come to terms with what has happened and the effect it has on them, they also work with the equally traumatized parents so they can be supportive of their children, McCarthy told DW.
She underlined the necessity for treatment, because stress can become toxic and lead to depression and other health issues. "For children, toxic stress can affect the brain and the behavior and lead to mental health problems in a country where this is considered a stigma."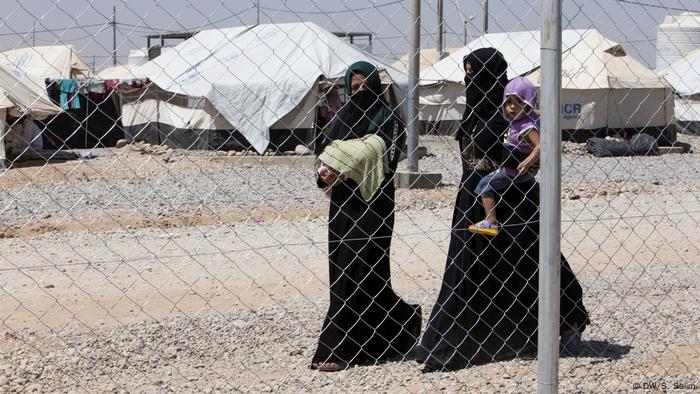 Getting appropriate care for children is paramount for Iraq's future, Save the Children says
Save the Children has been working with the Iraqi government to combat the problem, McCarthy says, adding that apart from the stigma, the lack of qualified therapists poses a major problem that needs to be addressed.
"Young people who have faced traumatic experiences and have not been given the appropriate support [...] may also pass on trauma to their own children," the report states.
The researchers warn that "if the root causes of conflict in Iraq are not addressed and if perpetrators of human rights abuses are not brought to justice, trauma can remain chronic and reproduce itself for generations to come. The entire society, then, may suffer from a lasting culture of pain."