Russia agreed on Thursday to extend a "humanitarian pause" to the fighting in the besieged Syrian city of Aleppo until Saturday.
"A decision was made to extend the 'humanitarian pause' by 24 hours" on the order of Russian President Vladimir Putin, Defense Minister Sergei Shoigu said in a statement. Although he did not specify when the ceasefire would end, the UN said it had received a pledge from Moscow that the truce would extend until Saturday.
Russia, which is supporting Syrian President Bashar al-Assad's forces, said the pause in air strikes would allow civilians and rebels to leave the city's rebel-held areas through six corridors.
Jan Egeland, senior United Nations humanitarian advisor, said it hoped to carry out its first medical evacuation from Aleppo on Friday, after receiving assurance that the humanitarian truce would be extended. However, he warned that arranging transport for several hundred people would be difficult. "This is Syria. Everything can go wrong at every possible opportunity," he said.
After holding talks on Syria with the leaders of Germany and France, Putin said on Thursday that Russia intended to halt its bombing campaign "as far as is possible." However, he warned that any rebel attempts to rearm and regroup would derail the ceasefire.
Clashes reported despite truce
As the Aleppo ceasefire went into effect on Thursday, clashes were reported along the dividing lines between rebels and government forces.
Most fighting was concentrated in the Bustan al-Qasr area of eastern Aleppo. The area was intended to be used as a corridor for civilians and the wounded to enter government-controlled areas of the city.
Yasser al-Youssef of the Noureddine al-Zinki rebel movement said that "regime soldiers started using their snipers against areas in Bustan al-Qasr and Salaheddin and we returned fire."
Meanwhile, Syrian state news agency SANA reported that rebels were using sniper fire and shelling to attack the corridor area in the early hours of the morning. It also reported that a number of rebel gunmen had already left Aleppo via the Bustan al-Qasr corridor.
Observers reacted with skepticism. "So far we cannot confirm or deny this report. All we know until now is that no one has left eastern Aleppo through any corridor," Rami Abdel-Rahman of the Syrian Observatory for Human Rights said.
Civilians remain wary of truce
Civilians in Aleppo's opposition-controlled areas said that they would refuse to leave unless the humanitarian corridors were monitored by the UN. "Without UN supervision no one will leave," Ibrahim al-Hajj of the White Helmet rescue team in Aleppo said.
The UN cited security concerns, the presence of Syrian troops and the fear of arrest for preventing civilians from leaving the enclaves. Some 250,000 to 300,000 civilians are believed to be trapped in eastern Aleppo, with limited access to food and medical care.
Meanwhile, rebel groups have vowed to stay and continue fighting the Syrian regime.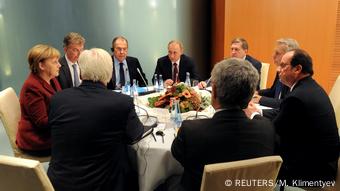 Leader from Germany, Russia, France and Ukraine met for peace talks in Berlin on Wednesday
Merkel presses for long-term ceasefire
At an EU summit in Brussels on Thusday, German Chancellor Angela Merkel pressed for a long-term ceasefire solution in Syria. "There must be work as soon as possible on achieving a ceasefire - not just one over several hours per day, followed by many hours of bombing, but a lasting ceasefire," she said.
The German leader said she hoped EU leaders would "make clear that what is happening in Aleppo, with Russian support, is completely inhuman."
Merkel and French President Francois Hollande met with Vladimir Putin on Wednesday night in Berlin for talks on the conflicts in Syria and Ukraine.
The West has accused Moscow of perpetrating potential war crimes with its bombing campaign against rebel-held areas of Aleppo, as well as for striking the city's two largest hospitals.
dm/msh (AFP, AP, dpa)