Some 8,000 Romans took to the streets of the Italian capital on Saturday to protest the "decline" of their city under Mayor Virginia Raggi. They were also protesting a rise in crime highlighted by the recent rape and murder of a 16-year-old girl.
"Rome says enough!" read one of the signs, as angry citizens called for action to improve the city's crumbling infrastructure, including potholes, unfinished construction projects, overflowing trash bins, trees falling down in derelict parks, and sluggish public services.
The city's woeful state was seen around the world earlier this week when an escalator collapsed in a metro station, injuring 20 people, most of them Russian football fans.
Many of the peaceful protesters broke into chants of "Resign! Resign!" directed at the mayor, whom they blame for the "degradation of the city." Raggi made headlines in 2016 for not only becoming the first woman elected to her post, but also for scoring the first major electoral victory for the populist Five Star Movement (M5S).
Since then, M5S has continued to make gains, entering into a coalition government after national elections last spring. Raggi, however, has been plagued by scandals and struggled to build a functioning team to tackle the city's problems.
According to Italy's La Repubblica daily, Raggi said the demonstrators were "the Democratic Party in disguise," referring to one of M5S's political rivals.
"How many Desiree's must die?"
Protesters were also upset about the security situation in Rome following the October 19 death of teenager Desiree Mariottini in the city's San Lorenzo district. At least two men drugged and raped Mariottini in an abandoned building in San Lorenzo, prompting Raggi to institute a ban on serving and drinking alcohol in the neighborhood after 9 p.m.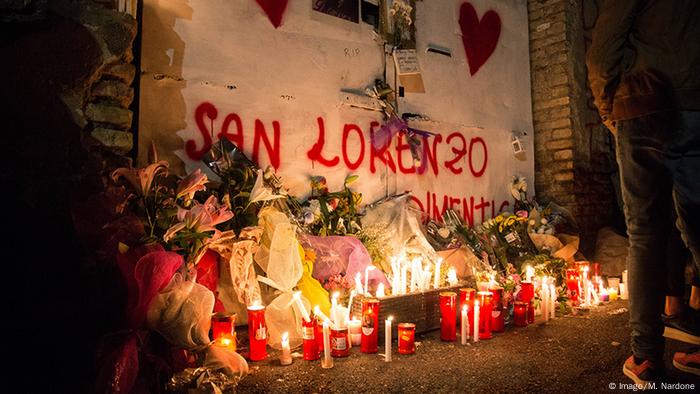 A memorial for Desiree Mariottini outside the building where she was murdered. Interior Minister Matteo Salvini of the far-right League party has called for the site to be bulldozed.
"How many Desirees must die before you forbid drinking in the whole city?" demonstrators asked.
Other local politicians weighed in, with City Hall President Sabrina Alfonsi saying, "The mayor must resign, not over crime, but for manifest incompetence."
Saturday's protest was launched on Facebook by a group calling itself "All for Rome, Rome for All," which boasts 22,000 members.
The group's founders, who go by the tongue-in-cheek name "The Six Bad Girls," describe themselves as "six Roman women, each with her own job and her own family," and say their goal is to promote "the idea of civic participation as an element of pressure towards institutions to improve the city."
Each evening at 1830 UTC, DW's editors send out a selection of the day's hard news and quality feature journalism. You can sign up to receive it directly here.