After Mohammed Hayis and his family arrived in Bangladesh in September last year, he built a shed out of plastic and bamboo on top of a hill composed of sand and clay. Now that the monsoon season is about to intensify, he is worried about his family's safety.
"We already had the first serious showers in the past few weeks," the Rohingya man told DW. "A few times it rained during the night. My wife and I were so scared that we couldn't sleep anymore. We were terrified that something bad would happen to the kids."
Since August 2017, 693,000 Rohingya have fled to Bangladesh from Rakhine State in Myanmar. They were the target of a violent campaign by Myanmar's military that has been described by the UN High Commissioner for Human Rights as a "textbook example of ethnic cleansing." Dozens of Rohingya villages have been burned down and thousands of Rohingya are believed to have been killed.
Read more:
Myanmar repatriates first Rohingya refugee family
Rohingya crisis: overpopulated Bangladesh bearing the burden
The Rohingya poured into Bangladesh southern border district, Cox's Bazar, which was already hosting over 200,000 refugees. Of the 900,000 refugees that now live in the camps, an estimated 150,000 are sheltered in risky areas. Their sheds are unstable and built on mud, clay and sand either on top of hills or in valleys.
There are serious concerns over landslides that could wash away refugee shelters when heavy monsoon rains hit the camps. An even bigger disaster would occur if the area gets hit by a cyclone, which is not uncommon in this part of Asia. Ensuring refugee safety is a race against time.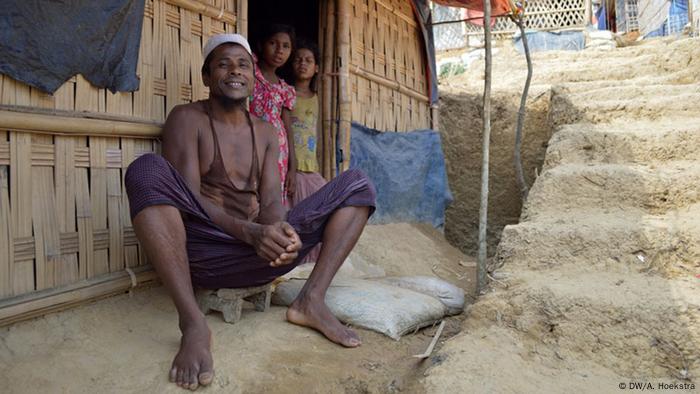 Rohingya refugee Mohammed Hayis outside his shelter at Cox's Bazaar
Shelter from the storm?
Recent rains already flooded Mohammed Asadullah's shaky shelter that he built alongside a steep and busy trail. "When the rains are heavy, the water just floods into my house," Asadullah said, while sitting in the doorway with his kids.
Elsewhere in the crowded and hilly camp measures are being taken to prevent a natural disaster. Roads are being repaired, drainage systems are being installed and bridges are being built. Aid workers and refugees are also practicing for what to do when bad weather causes problems like landslides.
Read more:
The voice of the Rohingya refugees
Tearful Rohingya plead with visiting UN team in Bangladesh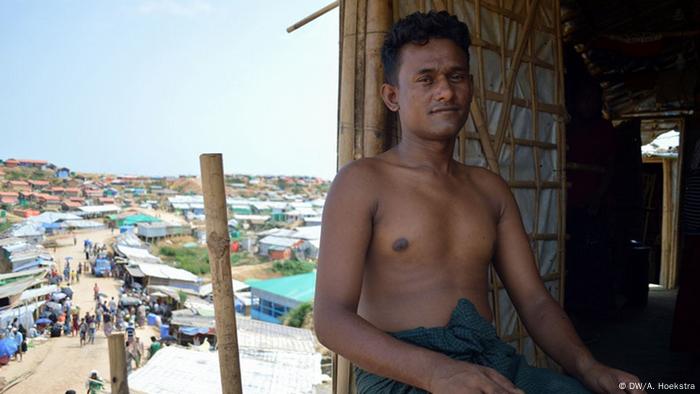 Mohammed Asadullah said he would not abandon his shelter when the rains come
But despite all these measures, the risk is still enormous, said Peter Guest, emergency coordinator with the World Food Programme. "We are very concerned about the monsoon," he told DW. "We are busy moving people from high risk areas and relocating them to safer land. Everybody's gearing up, and we're doing it as quickly as we can."
Bangladesh recently made an area of 500 acres available for the relocation of refugees. But because of the rough landscape only part of this land can be used.
Another problem is that some Rohingya refuse to be relocated. After fleeing from the violence in Myanmar, they now feel safe at their new home. They know the neighbors and they know where their friends and families are. They dislike the idea of moving to an unknown location.
"I have built this house myself and had to pay a lot of money for it," said Mohammed Asadullah , who worked as a farmer in Myanmar. "I'm not going to move from here. I will stay, even when the rains come."