Abdul Armin has witnessed Rohingya Muslims fleeing to Bangladesh for over 40 years - but never before has he seen so many flee as in the past month.
Armin owns a hardware store in Cox's Bazar, a district in the deep south of Bangladesh close to the Myanmar border with a population of over 2 million people. Since August 25, about 430,000 Rohingya Muslims, most of them women and children, have fled to Bangladesh to escape the brutal violence in Myanmar's Rakhine state.
Almost all of them came to Cox's Bazar. The local Bangladeshis are trying to be hospitable, but the impact of the enormous influx is weighing heavily on daily life. Locals have serious concerns over how all these extra people will impact their future.
"It seems like they all came here. I doubt if there's any Rohingya left in Rakhine," Armin told DW.
Proud yet overwhelmed
Many citizens of Cox's Bazar believe their government made the right decision when it allowed the Rohingya to enter the country.
Armin is 48 years old and has lived his whole life in the border district. He said he's proud of the way his government has dealt with the crisis so far.
"It was good to let them in and we can't push them back," Armin said. "But the impact is huge. With all these extra people the prices of food and transport have increased a lot over the past weeks. And I have concerns about our security. These refugees are so poor and hopeless. At some point they may go out stealing."
Read more: Rohingya people in Myanmar: what you need to know
Armin's concerns are widely shared in Cox's Bazar. Many Bangladeshis said they wonder what will happen if the refugees stay for a longer time. Bangladesh is already one of the poorest and most densely populated countries in the world.
Foysal Uddin, a local pharmacist, fears the influx of Rohingya will lead to unfair competition on the job market. "This could be really bad for us. The Rohingya may take our jobs. They now have nothing and I'm sure they are willing to work for less money than we do," he told DW.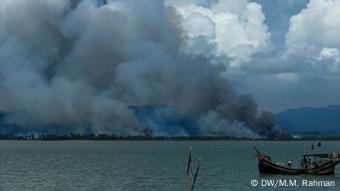 Villages burn across the border in Myanmar
Nowhere else to turn
The mass escape of Rohingya, who have been persecuted and discriminated in Myanmar for decades, is far from new. People from Cox's Bazar told DW the first refugees arrived in the 1970s.
Even before the current exodus, Bangladesh already hosted about 400,000 Rohingya. Many of them were never officially registered and mixed with the local community. They often worked as farmers, fishermen or rickshaw drivers.
Sabbir Ahammed, a 39-year-old Rohingya man, came to Bangladesh 24 years ago. For the past 10 years he has lived in the crowded Leda Refugee Camp.
"I have no citizenship here, and the Bangladeshi government has given us no other choice than to live in a refugee camp," he told DW. "We have no comfort here, but at least life is safe," he said, adding that if it were possible he would go back to Rakhine.
Government looks for solutions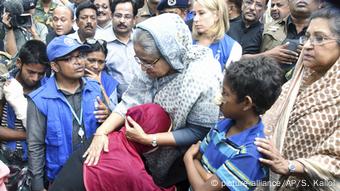 Bangladeshi PM Sheikh Hasina meets Rohingya refugees at a camp in September
The current unprecedented influx of Rohingya is pressuring the Bangladeshi government to find a solution. Foreign Minister Abul Hassan Mahmood Ali has even suggested deporting the Rohingya to Bhashan Char, a remote and uninhabited island that regularly floods during the monsoon season.
At the UN General Assembly last week, Prime Minister Sheikh Hasina proposed creating 'safe zones' in Myanmar that will allow the refugees to return in a sustainable manner.
Read More: Rohingya refugees consider fighting with Myanmar rebels
Human Rights Watch quickly criticized the Prime Minister's proposal, claiming that safe zones "rarely if ever live up to their name." In an online statement, HRW said that the examples from Bosnia-Herzegovina and Sri Lanka should serve as a warning, pointing out that in both countries, large numbers of civilians were executed in safe zones.
In Cox's Bazar most people hope a solution will be found quickly. If not, serious problems could arise. "We don't have enough land here to settle all these people. It will be a disaster if they have to stay for a long time," Bangladeshi teacher Nurul Absan, told DW.
"I think other countries should help us. Bangladesh is a poor country. We can't handle this crisis alone."