About two weeks ago Mohammad Ayub, 20, had to flee from the violence in Myanmar's Rakhine state. But just like many other Rohingya Muslims, he is eager to return and join the Arakan Rohingya Salvation Army, the militant group better known as ARSA.
He wants to fight the soldiers that drove him and his family out of the country. "If ARSA gives me military training and a weapon, I will surely join them," Ayub told DW at the Leda refugee camp in Cox's Bazar, Bangladesh.
Ayub is far from alone in his point of view. When asked if they feel sympathy for the militants and would consider joining them, many Rohingya refugees say they feel the time has come to fight back.
Their eagerness to join the resistance follows a mass exodus of Rohingya Muslims to Bangladesh. In only four weeks, over 400,000 Rohingya have fled Myanmar in what UN Secretary General Antonio Guterres described as"a textbook example of ethnic cleansing."
"I'm very positive about ARSA and I'm happy they are there to protect us and our rights," Ayub said. "We have been suppressed by the Myanmar military for such a long time. They have taken all of our civil rights and our freedom. I wish ARSA all the best and would join them if they ask me to. I want to fight to protect our community."
Fighting violence with violence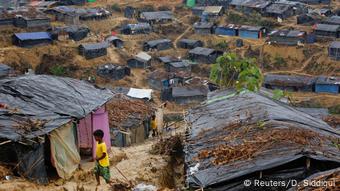 The Rohingya refugee camp at Cox's Bazar, Bangladesh, September 2017
On August 25, ARSA, previously known as Harakah al-Yaqin (Faith Movement), attacked 30 police and army posts in Rakhine state, killing 12 people. It was the largest militant attack so far on Myanmar security officers in Rakhine. The government's military responded with a counter offensive to hunt down the militants.
Read more: Myanmar's Rohingya rebels - What you need to know
Since then, entire Muslim villages have been burned down and at least 1,000 people have been killed. The fighting has also caused a refugee exodus to Bangladesh, with many of them bringing stories of indiscriminate killings, executions, arson and sexual violence.
Sodu Mia is one of the Rohingya men who managed to escape the violence. "The army came to my village and gathered all the young men they could find. They brought them into the jungle and shot them," Mia told DW in a makeshift camp behind a small market, close to the Myanmar border.
Mia got away because he hid in the jungle. After nightfall he searched for other survivors. Together they made the long journey on foot to Bangladesh. Despite having no military experience, the 45-year-old farmer said he is ready to go back and to join the militants.
Other men in the makeshift camp share his commitment. "We are a nation of farmers and fishermen, but we have rights as well. I want to fight to protect those rights," one of them said.
ARSA's first attack on Myanmar security officers happened last year in October, when the group launched a well-organized attack on several border posts, killing nine policemen. The Myanmar government quickly labelled them as terrorists to be hunted down.
Read more: Myanmar's Rohingya: A history of forced exoduses
In a report last December, the International Crisis Group (ICG) called the group, the "emergence of a new Muslim insurgency" and warned that a failure to deal with it in a proper manner "would carry enormous risks." Although Myanmar has a long history with ethnic rebel groups, it's the first time in decades that such a group has emerged in Rakhine.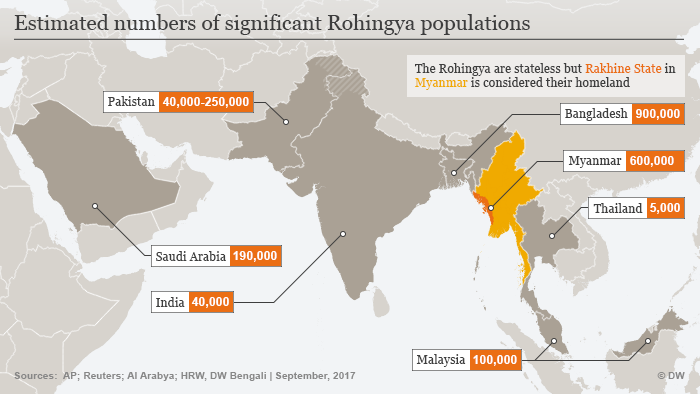 Terrorists or freedom fighters?
According to the ICG, ARSA's leaders have Rohingya roots and no ties with international terrorist groups as Al-Qaeda or Islamic State. Most of them grew up in Saudi Arabia and were battle hardened in Pakistan and Afghanistan. In video messages the militants themselves announced they are not terrorists, but a group of fighters that is defending the Rohingya and standing up for their rights.
Angered and frustrated by the long-lasting suppression by the government and by Myanmar's Buddhist majority, it's a message that goes well with many Rohingya Muslims who were forced to leave their homes and flee to Bangladesh. They say the time has come to resist. "The Burmese soldiers have raped our wives and killed our children. That's why we want to fight back", Sodu Mia says.
Amam Ullah, another refugee, agreed. "If we get training and a weapon, we will fight to protect our rights. We want to resist," he said.