"Who is the pope?" asks Moulove Abdul Halim, a Rohingya refugee who came to Bangladesh from Myanmar two months ago. He manages a newly-built mosque at a camp in Kutupalong, an area in the Bangladeshi coastal city of Cox's Bazar where most of the Rohingya refugees live.
Halim is unfamiliar with Francis, the leader of the Catholic Church, who has begun a three-day trip to Bangladesh on Thursday after leaving Myanmar. He showed no interest in commenting when asked about the pontiff's visit, instead returning to his young students memorizing the Koran in the mosque.
Read more: US condemns 'ethnic cleansing' of Rohingya in Myanmar
The Kutupalong refugee camps, where most of the nearly 1 million Rohingya refugees live, is growing by the day. New tents are being erected in areas where no electricity or sewage system is available.
Samsunnahar, a 20-year-old refugee, confused the word "pope" with the soft drink "Coke" when Francis' name was mentioned. Fellow refugee Mohammad Hashim thought the pope was a powerful local politician he should know about.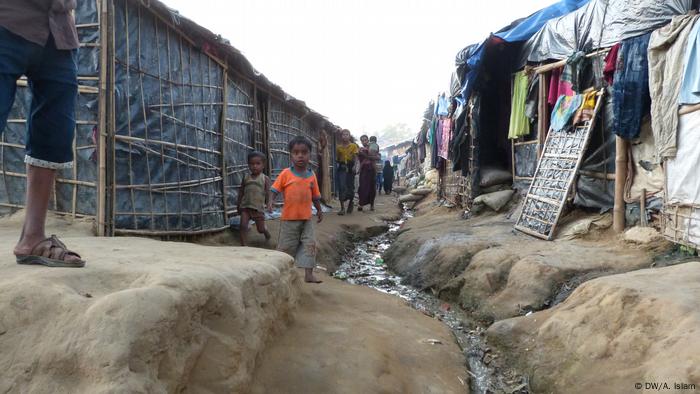 More than 600,000 Rohingyas have been forced to flee to Bangladesh since August 25
"We just want to live an independent life in Myanmar like the country's other citizens. We are Rohingyas, and they should recognize us. Can the pope help us in getting our home back?" asked Hashim. The 20-year-old student sees no hope of continuing his education in Cox's Bazar, as the refugee camps have no high schools and Rohingya students are not allowed to enroll in local Bangladeshi schools.
No condemnation from Francis in Myanmar
Pope Francis has avoided using the term Rohingya on his trip thus far during meetings with Myanmar's de facto leader Aung Sung Suu Kyi and Buddhist leaders. Many in the Buddhist-majority country, including the government itself, refer to the minority group as "Bengalis,'' implying they are interlopers from Bangladesh, and dispute UN claims that they are being persecuted by the army.
Those refugees following Francis' trip to the region were disappointed that he has not yet mentioned the plight of the Rohingya people this week.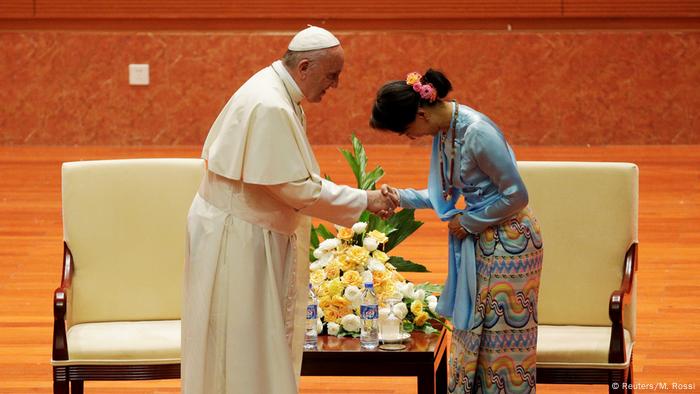 Pope Francis avoided addressing the plight of the Rohingyas during his visit with Aung San Suu Kyi
Mayyu Ali, who was studying English literature at a University in Myanmar before authorities imposed a ban on Rohingya students in 2012, moved to Bangladesh two months ago with his family after the military burned his home.
Read more: 'Apartheid' in Myanmar, accuses Amnesty
"I was hoping that [Francis] would visit the camps in Kutupalong to realize the suffering we have been going through every day," Ali told DW. "Had he been here, he would have understood us better.'"
Ali nonetheless remains optimistic Francis will speak the truth about the plight of the Rohingya people, as he did in twice during appeals from the Vatican earlier this year.
Refugee camp not on pope's schedule
The pope's official itinerary in Bangladesh does not include a stop at the Rohingya camps in Cox's Bazar, but Regina Catrambone, co-founder of Migrant Offshore Aid Station (MOAS), which is working on the crisis, is hopeful Francis will show up unannounced. "The reason [the pope is not planning to visit the Rohingya camps] is maybe a security concern," she said. "But I still hope that he will surprise us and decides to come. He is a pope that likes surprises.''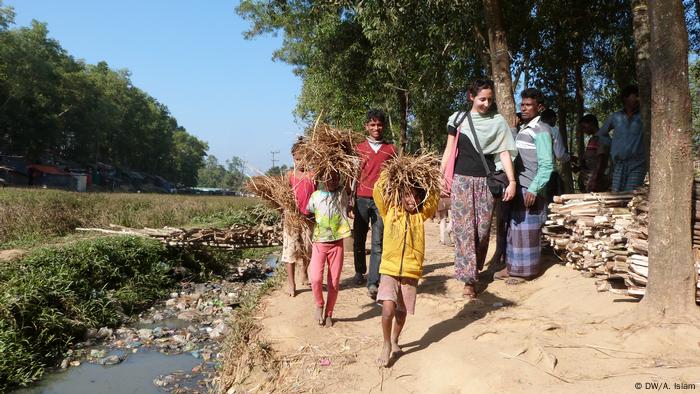 The US and UN have described Myanmar's persecution of the Rohingya as 'ethnic cleansing'
Other international charities working on the Rohingya crisis have avoided directly addressing the pope's visit, considering it a political issue, and Bangladesh government officials also expressed reluctance in commenting on the subject.
Read more: Rohingya crisis demonstrates consequences of statelessness
Nay San Lwin, a Germany-based Rohingya activist who is visiting Bangladesh prior to pope's visit, thinks that the pontiff avoided using the term Rohingya in Myanmar due to "pressure by Burmese Cardinal Charles Maung Bo.'' However, he wants to hear the term from the Pope during his visit to Muslim-majority Bangladesh.
"Bangladesh is hosting more than a million Rohingya refugees as of today. They all are victims of Myanmar's genocide. So the Pope must condemn the genocide,'' Lwin said. "He should also urge the international community and the United Nations to intervene in Myanmar to stop the ongoing genocide.''
Christians make up less than 1 percent of Bangladesh's 160 million people. More than 80,000 Catholics in the country are expected to join a mass prayer with the pope at a historic garden in the capital, Dhaka, on December 1.