Pope Francis called for "respect for each ethnic group and its identity" following a meeting with Myanmar leader Aung San Suu Kyi on Tuesday, but avoided referring specifically to the country's persecuted Rohingya minority.
Instead, the 80-year-old pontiff used his speech before lawmakers and diplomats to urge healing in a country suffering from conflicts "that have lasted all too long and created deep divisions."
"Religious differences need not be a source of division and distrust, but rather a force for unity, forgiveness, tolerance and wise nationbuilding," he said, sharing a stage with Suu Kyi at the presidential palace in Naypyidaw.
A former Nobel Peace Prize winner, Suu Kyi has been ostracized by the global human rights community over her reaction to a military crackdown, which has seen more than 620,000 Rohingyas flee the country's Rakhine state.
In her address to dignitaries, Suu Kyi acknowledged there had been a breakdown of trust between Rakhine's communities and the government, but she also did not mention the Rohingya by name.
"Of the many challenges that our government has been facing, the situation in Rakhine has most strongly captured the attention of the world," Suu Kyi said. She added that the state was attempting to build peace by "protecting rights, fostering tolerance, ensuring security for all."
Read more: Pope faces tightrope act in Myanmar amid Rohingya crisis
Warning from Buddhist nationalists
A hard-line group of Buddhist monks had warned on Monday that there would be "a response" if the pope spoke openly about the Rohingya.
Catholic leaders in the predominantly Buddhist country have reportedly urged Francis to respect the views of the government and the majority of the population that do not consider Rohingya to be citizens, instead calling them "Bengali" — implying they are from Bangladesh.
Read more: Opinion: The pope is visiting a minefield in Myanmar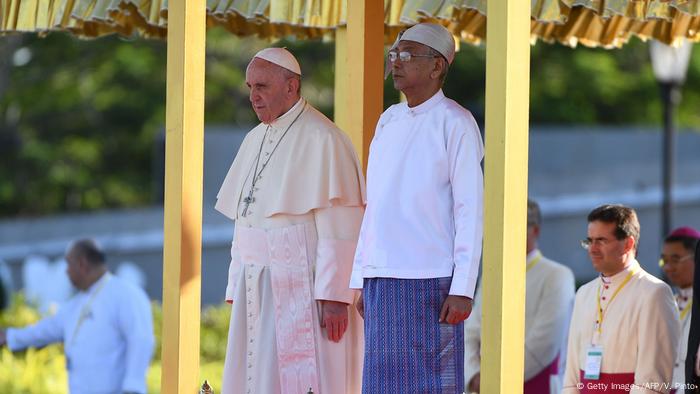 The pope is welcomed by Myanmar's president, Htin Kyaw, during a special ceremony in Naypyitaw
From afar, Francis has repeatedly spoken out about the plight of the Muslim minority, calling them his Rohingya "brothers and sisters." But taking a similar approach in Myanmar would be fraught with potential diplomatic danger, as the term "Rohingya" is viewed as unacceptable.
Phil Robertson, deputy director of Human Rights Watch's Asia division, said he was disappointed the pope hadn't used his speech to draw attention to the Rohingya's plight.
"The Rohingya have been stripped of so many things but their name should never be one of them and we hope that the pope will use the word Rohingya in his Mass (Wednesday)," he said.
Read more: US condemns 'ethnic cleansing' of Rohingya in Myanmar
Meanwhile, DW correspondent Bastian Hartig reported that Buddhist nationalists had taken to social media to denounce the papal visit.
"They're very angry because they feel that he has been taking sides with the Rohingya... they feel like he's interfering in internal affairs," Hartig said.

Interfaith talks
Before heading to meet Suu Kyi, the pope held talks with Myanmar's religious leaders in the city of Yangon.
A Vatican spokesman said Francis stressed a message of "unity in diversity" during a 40-minute interfaith meeting with Myanmar's Buddhist, Hindu, Muslim, Christian and Jewish leaders.
The spokesman said Francis told them to work together to rebuild the country and that if there are arguments, they should reconcile quickly like brothers.
Francis also briefly met separately with Buddhist leader Sitagu Sayadaw in "an effort to encourage peace and fraternal coexistence as the only way ahead," the spokesman said. Sitagu has been criticized for using ethnic slurs against Muslims.
Four-day papal trip
On Monday, the pope received a "courtesy visit" from army chief Min Aung Hlaing, whose troops have been accused of committing ethnic cleansing and other crimes against the Rohingya population. The general denies the allegations.
Francis' four-day visit to Myanmar was planned before the recent escalation of violence, which began in August when attacks by Rohingya militants were countered by a major army offensive.
Francis will travel on to Bangladesh on Thursday.
nm/rt (AP, dpa)