New York-based Human Rights Watch (HRW) on Thursday accused Myanmar security forces of committing widespread rape against women and girls as part of a campaign of ethnic cleansing in the country's Rakhine state.
"Rape has been a prominent and devastating feature of the Burmese military's campaign of ethnic cleansing against the Rohingya," said Skye Wheeler, women's rights emergencies researcher at Human Rights Watch and author of the report. "The Burmese military's barbaric acts of violence have left countless women and girls brutally harmed and traumatized."
The HRW report echoed an accusation by Pramila Patten, the UN special envoy on sexual violence in conflict, who said earlier this week that sexual violence was "being commanded, orchestrated and perpetrated by the Armed Forces of Myanmar."
"Rape is an act and a weapon of genocide," she said.
Myanmar's army on Monday cleared itself of any wrongdoing, denying all allegations of rape and killings by security forces.
More than 600,000 Rohingya people have fled to bordering Bangladesh to seek protection after an insurgent attack on security forces on August 25 sparked off a brutal military counteroffensive that the United Nations has denounced as a "textbook example of ethnic cleansing."
Mass rape
HRW spoke to 52 Rohingya women and girls who had fled to Bangladesh, including 29 rape survivors, many of whom endured the pain of walking with swollen and torn genitals while fleeing.
All but one of the rapes were gang rapes, HRW said. The rights group documented six cases of mass rape during which soldiers gathered Rohingya women and girls in groups and then raped them.
Hala Sadak, a 15-year-old from Hathi Para village in Maungdaw Township, recounted to HRW what was done to her. She said soldiers stripped her naked and then dragged her before about 10 men raped her.
HRW called on the United Nations Security Council to put a full arms embargo on Myanmar and individual sanctions against military leaders responsible for human rights violations, including sexual violence.
Read more: Myanmar's Rohingya: A history of forced exoduses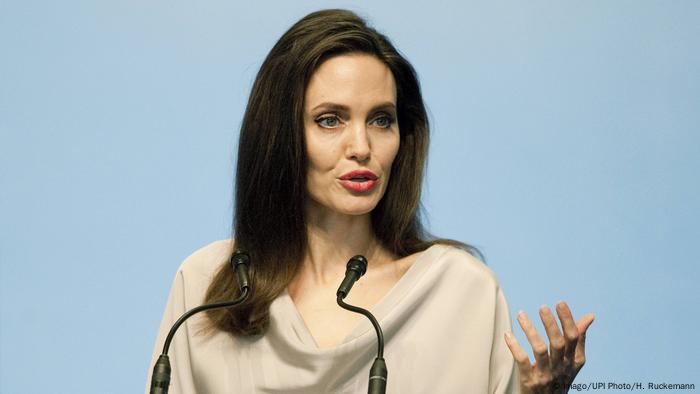 Angelina Jolie: This is rape and assault designed to torture, to terrorize, to force people to flee.
Jolie condemns sexual violence
Separately, actress and activist Angelina Jolie also condemned sexual violence inflicted on Rohingya women.
Jolie, who is a special envoy of the United Nations High Commissioner for Refugees (UNHCR), told a Bangladesh delegation in Vancouver that she planned to visit the Rohingya victims of sexual violence.
In an address to UN peacekeeping officials in the Canadian city, Jolie said almost every female Rohingya refugee in the makeshift camps in Bangladesh was a survivor or a witness to multiple instances of sexual assault, including rape.
"This is rape and assault designed to torture, to terrorize, to force people to flee and to humiliate them," Jolie said. "It has nothing to do with sex. It has everything to do with the abuse of power. It is criminal behavior."
ap/sms (Reuters, AFP)