"OFRO+detect" is a modern-sounding name. The device definitely has the imposing look of a military tank -- in miniature. At 1.20 meters (almost four feet), visitors to next year's World Cup in Germany will have to be sure not to step on the panzer. Yet with a hefty 50 kilograms (about 100 pounds) on top of its tank tracks, spectators would most likely come away with a few stubbed toes should they tread on OFRO.
The Berlin-based company Robowatch Technologies hopes that the modern technology they have to offer will find a place in the anti-terror watch during next year's World Cup in Germany. OFRO can take over those dangerous, and tedious, duties that most security officers do not want to assume, namely checking for atomic, biological and chemical, or ABC, weapons.
OFRO can roam the stadiums 12 hours at a time, the whole time its sensors can trace any dangerous weapons of mass destruction that may have been emitted into the stadium.
Business manager Ulf Stremmel thinks that OFRO is a "suitable instrument in the war against terror."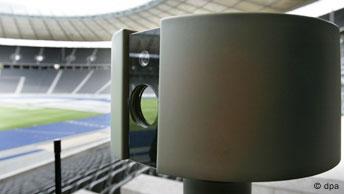 You don't have to smile for this camera
Camera and gas sensors
The use of the robots in almost all areas means almost 100 percent dependability. OFRO is no different. It does not need any bothersome coffee breaks, is the epitome of concentration and doesn't tire. In the 12 hours of operation time, it can cover 10,000 square meters at a speed of five kilometers (3.1 miles) per hour. The whole time it uses its thermal camera and sensors to detect possible terror hazards, according to the company's chief developer, Jens Hanke.
The robot wirelessly transmits all the information that is gathered at a central location. It also takes air samples and should there be irregularities, it sounds an alarm. Nothing can get in OFRO's way and it can steer through fan crowds all by itself.
Waiting for its assignment
The Robowatch Technologies management are still waiting to hear from security officials if OFRO will actually be needed. Stremmel said that the robot's presence could help in preparing countermeasures in the event of an attack. Naturally it cannot replace humans fully but it could act as an important element in the area of security.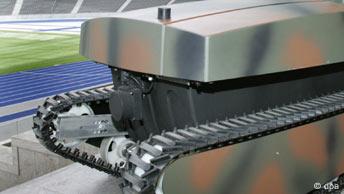 OFRO won't emit any noxious gases
The German Interior Ministry has yet to say whether they want to buy OFRO for 80,000 euros ($100,000) or even just rent it for 3,500 euros per month.
One distinct advantage that OFRO offers according to Hanke is its integrity.
"Our robots can be neither intimidated nor bribed," he said.
But it could take valuable jobs away.