The German human rights organization Pro Asyl on Sunday said Chancellor Angela Merkel's trip to Turkey on Saturday was carried out under a false guise of humanity, saying her praise of Turkey's treatment of refugees and an EU-Turkey migration deal was "unbearable."
"Merkel's Turkey trip was meant to seem humanitarian, but we are experiencing the biggest attack on the human right to asylum in the history of the EU," said Pro Asyl's managing director, Günter Burkhardt.
Burkhardt mentioned the case of 13 Afghan and Congolese asylum-seekers who were deported back to Turkey at the start of April, saying they were now in custody there under the threat of further deportation to their countries of origin.
"That is the scandal within a scandal," he said. "The deal gets rid of the right to asylum; protections for refugees are systematically removed and human rights are ignored."
'Greatest contribution'
During her visit, Merkel (seen above with Turkish Prime Minister Ahmet Davutoglu) praised Turkey for making Syrian refugees welcome, saying that Ankara had made the "greatest contribution" by taking in nearly 3 million people. She also said that the recent deal with Turkey was not aimed just at stopping illegal migration, but also at giving Syrian refugees more chances in proximity to their home country.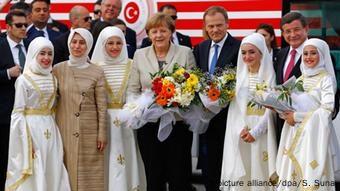 Critics say Merkel gained a "sanitized" view of refugees in Turkey
Human rights groups, for their part, have been rather critical of Turkey's role so far in the refugee crisis, among other things accusing Ankara of blocking tens of thousands of Syrian refugees from entering the country.
Amnesty International has also said that Turkey has been expelling some 100 Syrians a day back to their war-ravaged country, something Ankara has denied. The government has also rejected claims that refugees attempting to enter Turkey illegally have been shot at by soldiers.
The EU-Turkey deal stipulates that refugees who travel to Greece from Turkish soil and do not meet the criteria for asylum are to be returned to Turkey. In exchange, the EU has pledged to take in the same number of refugees as has been returned, to provide 6 billion euros ($6.8 billion) in assistance over the next four years and to allow visa-free travel to the bloc for Turkish citizens.
Dubious rights record
The deal has been slammed by rights groups who question Turkey's human rights record and its treatment of refugees. Among other things, they accuse the country of sometimes detaining refugees without due cause, returning them to countries where their lives are at risk, such as Syria, and not giving them enough job opportunities.
Merkel's trip, on which she was accompanied by a number of top EU officials, also came amid controversy over Turkey's ongoing crackdown on freedom of speech. Critics have accused the chancellor of pandering to Turkey so as not to jeopardize the migration deal.
Merkel has denied that Germany was afraid to speak out on the topic of freedom of expression with Turkish leaders.
"I can assure you that the fact that we speak with each other so often - much more than we used to - leads to our addressing all these issues," she said.
tj/se (AP, epd, AFP)