In China, Tunisia or Egypt, people can be arrested for posting "unacceptable" opinions on a Weblog or website. And over 60 cyber-dissidents around the world are currently incarcerated for expressing themselves online, according to Reporters Without Borders.
The organization has invited all Internet users to join them in speaking out against censorship on the Internet by visiting their Website www.rsf.org from 11:00 a.m. local time on Nov. 7 to 11:00 a.m. on Nov. 8.
Every click counts
The Reporters Without Borders Website displays an interactive map showing the "Internet black holes" -- that is, countries they consider most dangerous to freedom of expression on the Internet.
Each click on the map will change its appearance and every vote will be counted in a kind of virtual petition.
Sending a message to Yahoo!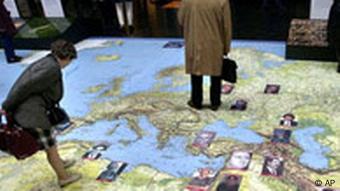 The Website has an interactive map showing the "black holes" of censorship
Reporters Without Borders is particularly critical of Yahoo! and its founder Jerry Yang. They say the California based Internet giant was among the first to pander to Chinese authorities by self-censoring its search machine there and has worked closely together with the government to prosecute politically dissenting bloggers.
The human rights organization has accused Microsoft and Google of similar conduct.
During the 24-hour cyber protest, visitors to the Reporters Without Borders website will have the opportunity to send a personal message to Jerry Yang of Yahoo!.
Blog for free speech
In addition to participating in the virtual petition and writing to the Yahoo! founder, users will also be able to set up their own blog via the Reporters Without Borders blog platform.
On Saturday, Nov. 11 Deutsche Welle will honor some of the world's best bloggers as part of its annual Best of the Blogs Awards. One of the awards is sponsored by Reporters Without Borders and will be presented to a blogger who is particularly active in promoting freedom of speech on the Internet.
Click on the links below to learn more about Deutsche Welle's BOBs Awards and the Reporters Without Borders cyber demonstration.