Steinmeier criticized Turkmenistan for its slow progress in implementing the rule of law and human rights and said that the former Soviet state's progress in carrying out political reforms had been "too halting."
The German foreign minister spent three hours in discussion with Turkmen President Saparmurat Niyazov and admitted afterwards that the talks between the two sides had achieved little and that major differences remained.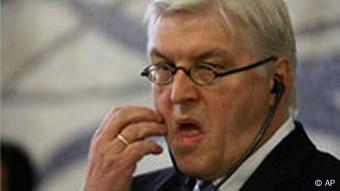 Steinmeier was not satisfied with the progress made
However, there was cause for some optimism after Niyazov, who rules Turkmenistan as a virtual dictatorship, agreed to a visit by the German parliament's human rights committee. Last month, a visit to Turkmenistan by members of the group was stopped at the last minute
Germany and the rest of the EU have been increasing the pressure on Niyazov and his regime as reports on its terrible human rights record continue to come to light. The Turkmen president has responded by speaking out against what he regards as European intervention and has accused the European Union of "subversive activities."
A rival only to North Korea and Eritrea
Human rights organizations say Turkmenistan continues to vie for the top spot in the list of states with the worst human rights records, despite being a signatory to a UN convention against torture and a member of the 56-member Organization for Security and Cooperation in Europe.
The 2006 Worldwide Press Freedom Index from Paris-based Reporters without Borders (RSF), surveying censorship, intimidation and violence against journalists around the world, said Turkmenistan ranked with North Korea and Eritrea as one of the worst suppressors of free expression. Turkmenistan fell two places to 167 in RSF's survey of 168 states. The country scored 136 when the list was compiled for the first time in 2002.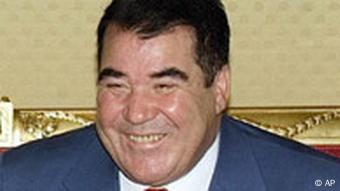 Saparmurat Niyazov has given himself a job for life
Critics maintain that dissidents are brutally suppressed under Niyazov's regime and there are no press or political freedoms. Independent local media is almost non-existent, libraries have been closed, many foreign journalists have been banned from entering the country and imports of international publications have been stopped.
It is next to impossible for reporters to obtain comments from the government. The only person qualified to speak is Niyazov, in power since 1985 when the country was part of the Soviet Union.
Muradova death seen as escalation of crackdown
The group Human Rights Watch had asked Steinmeier to seek an explanation from Niyazov about the death of human rights activist and journalist for the US-funded Radio Free Europe Ogulsapar Muradova, who died in prison in September. She had been sentenced to six years in jail for possessing arms, a charge her supporters said was fabricated. Her autopsy showed that she had strangle marks on her neck and other serious injuries. Her two lawyers remain in jail.
RSF said her "torture death" showed "the country's leader, 'President-for-Life' Separmurad Niyazov, is willing to use extreme violence against those who dare to criticize him."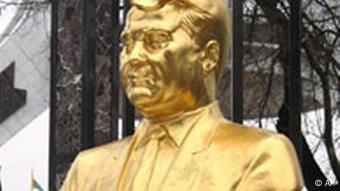 The president is depicted as a golden god
A coalition of human rights groups including Amnesty International wrote an open letter to Niyazov in July to complain about his country's record. "Your government routinely silences those who speak out about the widespread human rights violations in your country," the letter said.
"It does so through the use of beatings, arbitrary detention and arrest, incarceration in psychiatric facilities without medical justification, house arrest, surveillance, threats and torture."
The outside world's view on the Turken president is very different from the one portrayed within the country. Niyazov enjoys an elaborate personality cult within Turkmenistan which has seen a town, months of the year, days of the week and a heavenly body named after him. He has built golden statues of himself around the desert country.
The 66-year old dictator refers to himself Turkmenbashi the Great, a terms which means "Father of all Turkmen."