Nguyen Thi Thai Lai looks straight at the camera and composes herself. Beneath her glasses, her eyes fill with tears. A welt covers her right cheek. After a long pause, the environmental activist begins recounting what happened to her.
"Four young guys as stocky as water buffalos blocked my bike, grabbed my neck and threw me to the ground. They hit my face until I was unconscious," she said in a video posted to Facebook live in February and translated by HRW.
Her account is one of dozens collated by the New York-based rights group in a report released Monday looking into the widespread and violent attacks on Vietnamese activists and bloggers.
Titled "No Country for Human Rights Activists," the report details 36 assaults committed by masked "thugs" between January 2015 and April 2017. Many of them were reportedly carried out in the presence of police.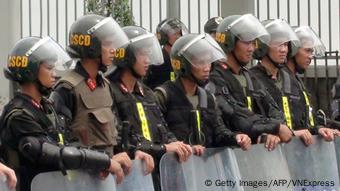 Government rarely investigates
The selection of incidents drew on reports in local and international media, as well as those circulated by the activists themselves on social media. Because the government rarely investigates or provides data on such cases, the total number of such assaults is unknown and likely much higher.
Read: Dissident blogger faces prison in Vietnam
The victims of the attacks reported by HRW include environmentalists and human rights lawyers, priests and blogger and land rights campaigners. They range in age from 15 to 66. What they all have in common is they have been fighting for fundamental rights within a heavily controlled police state.
"In many of the cases, the assaults took place in tandem with and seemingly in support of official repressive measures against the activists in question," the report noted.
Activists also targeted by officials
According to the report, in almost all the cases, the activists targeted by "thugs" were also targeted for arrest and other forms of official repression.
Read: HRW: Torture is an 'expanding scourge' in Asia
Of all the cases documented in the report only a single one has resulted in an investigation and prosecution. The lack of police follow-up, coupled with the fact that many of the attacks took place with police presence, underscores the likely role of the state in such reprisals.
"While the precise links between the thugs and the government are usually impossible to pin down, in a tightly controlled police state there is little or no doubt that they are aligned with and serving at the behest of state security services," said the report.
The report details 36 assaults committed by masked 'thugs' between January 2015 and April 2017
Activists face multiple attacks
In April, 23-year-old Tran Hoang Phuc and 18-year-old Huynh Thanh Phat, were dragged into a car by a group of masked men, beaten over the course of a four-hour ride, then stripped, hit with sticks and belts, and abandoned in a remote area.
The attack was the fifth in less than 18 months for Huynh Thanh Phat. After being detained and questioned in May 2016 over his participation in peaceful, pro-environment protests, masked men accosted him as he left the police station, punching him in the face.
Read: Vietnamese activists handed prolonged jail terms
Earlier that month he was attacked while at an environment protest in Ho Chi Minh City. In January, undercover police hit him and physically dragged him from a rights protest. A month earlier, he was among a group beaten by police when calling for the release of a fellow activist.
"It's bad enough that activists in Vietnam have to risk prison for speaking out, but now they have to risk their safety on a daily basis simply for exercising their basic rights," Brad Adams, Asia director at Human Rights Watch told DW. "The Vietnamese government needs to make it clear that it will not tolerate this kind of behavior and bring to an end this campaign against rights campaigners."