Amnesty International on Thursday criticized German authorities over their response to hate crimes across Germany amid a sharp increase in attacks against refugee shelters.
"With hate crimes on the rise in Germany, long-standing and well-documented shortcomings in the response of law enforcement agencies to racist violence must be addressed," said Amnesty's EU researcher Marco Perolini in a statement.
"German federal and state authorities need to put in place comprehensive risk assessment strategies to prevent attacks against asylum shelters. Further police protection is urgently needed for shelters identified at highest risk of attack," added Perolini.
In March, journalist collective Correctiv and German news magazine Der Spiegel reported that the majority of crimes against refugee shelters in 2014 remained unsolved. Out of the 157 investigations, only 15 led to convictions.
Amnesty said that Germany witnessed 1,031 crimes against asylum shelters in 2015 - 16 times as many as those committed in 2013, which had amounted to 63.
Meanwhile, "racist violent crimes against racial, ethnic and religious minorities increased by 87 percent, from 693 crimes in 2013 to 1,295 crimes in 2015," the report added.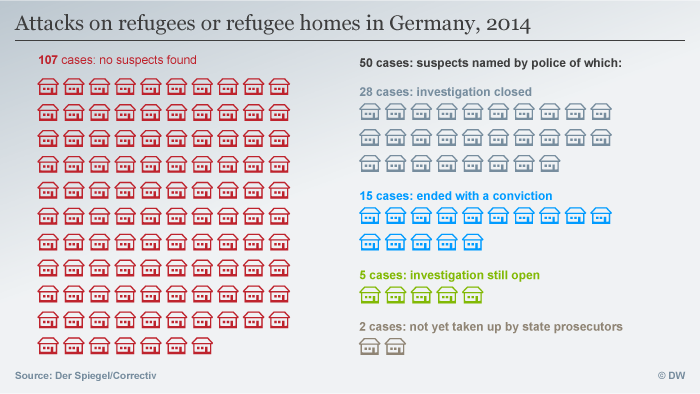 EU-wide problem
Katya Andrusz, communications coordinator for the EU's Agency for Fundamental Rights (FRA), told DW that Germany is not the only EU member state affected by racially motivated discrimination and violence.
"Racial discrimination is most definitely an issue in Germany - but not only (there). It is a problem throughout the EU, and one that must be combatted at the level of national governments, regional authorities and frontline practitioners," Andrusz said.
"Without belittling the seriousness of these figures, it must be understood that in countries such as Germany that collect such data on hate crime and other bias-motivated incidents, the high numbers often show that the given country is doing more to record and combat the phenomenon than other EU countries where official statistics show a low number of attacks," Andrusz added.
The Amnesty report noted that while Germany witnessed a surge of anti-migrant sentiments in the past year, the "German public has been among Europe's most welcoming to refugees."