On July 29, 1941, Auschwitz deputy commander Karl Fritzsch ordered that 10 men be starved to death as retribution after three inmates were believed to have escaped. Upon hearing that he was sentenced to die, Franciszek Gajowniczek - a sergeant in the Polish army and father of two - burst into tears, prompting the Franciscan Maximilian Kolbe to approach the commander. "I am a Catholic priest from Poland," Kolbe said, according to inmates who were present. "I would like to take his place because he has a wife and children."
Fritzsch accepted Kolbe's offer, and the priest went to Auschwitz's notorious starvation bunker with the nine other inmates, whom he tried to console. Two weeks later, Kolbe and three other prisoners who were still alive were finished off with gas. Their bodies were burned.
The future saint was born Raymund Kolbe in 1894, in the Lodz region of the Kingdom of Poland, a territory of the Russian Empire. Devout but poor Catholics, Kolbe's German father and Polish mother sent him and his brother to a Franciscan seminary in Lviv, where he was given the religious name Maximilian. Later, he studied philosophy and theology in Rome. He was no stranger to death: Two brothers died before they were 5, and his father was executed for fighting for Poland's independence from Russia.
As a priest, Kolbe founded a monastery near Warsaw that included housing, seminar space, workshops, a printing and publishing house, and its own broadcaster. The complex was soon well-known throughout the region and was home to more than 700 Franciscans by the end of the 1930s.
Germany's invasion of Poland ended Kolbe's work in 1939. The Nazis turned the monastery into a jail and turned its inhabitants out to the streets. Kolbe was arrested, freed and in 1941 arrested again and sent to Auschwitz. He was 47 when he died.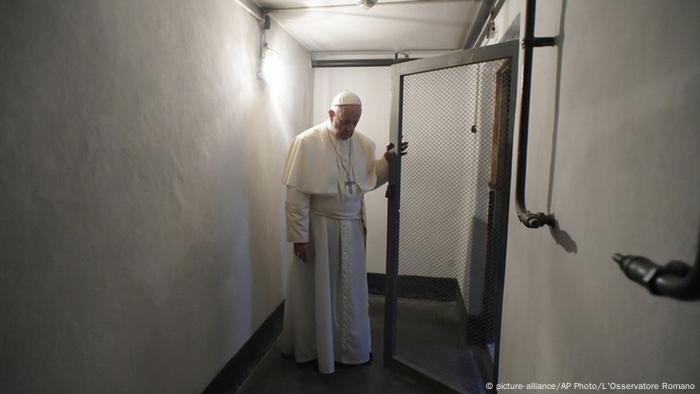 Francis said a prayer on his visit to Kolbe's cell earlier this year
'Radical' compassion
Kolbe's horrific death inspired his fellow inmates, as well as future resistance. "Among the destruction, terror and evil, he restored hope," Michal Micherdzinski, who was there when Kolbe made his stand, told an interviewer before his death in 2006.
Gottfried Bohl, the head of news at Germany's KNA Catholic news agency, said Kolbe's act of self-sacrifice "stands for compassion in the most radical form. He sacrificed his life to save that of another. This shows us that humanity persists even in the darkest and most inhumane moments."
In the early 1960s, while postwar and Cold War relations between Germany and Poland were tense, bishops from both countries pushed for Kolbe's canonization. "They worked for reconciliation when no one else did," Bohl said. "And they were greeted with hostility for it." Kolbe was beatified by Pope Paul VI in 1971 and canonized as a martyr in 1982 by Poland's John Paul II and later paid tribute to by Germany's Benedict XVI.
Both ceremonies were attended by Franciszek Gajowniczek, who lived to 93 thanks to Kolbe. He then traveled around Europe and the United States to promote Kolbe's work.
Kolbe is the patron saint of drug users, prisoners and journalists. In Poland this summer, Pope Francis prayed in the cell where Kolbe was martyred.
Two active organizations carry on the saint's work in Germany today. Founded in 1973, the Maximilian-Kolbe-Werk is based in the southern city of Freiburg and serves as a relief organization for the survivors of Nazi concentration camps and ghettos, regardless of their faith. And a Berlin-based foundation that bears Kolbe's name supports reconciliation projects in Europe.
Ludwig Schick, the archbishop of Bamberg, considers Kolbe a symbol of German-Polish reconciliation. Schick is the chairperson of the Kolbe foundation and the German head of the contact group for the German and Polish bishops' conferences. Schick told KNA that the work of reconciliation remains unfinished. His foundation seeks to encourage young people to "promote reconciliation and peace in their countries." Kolbe is an example that can inspire acts of reconciliation throughout the world, he said, especially in Ukraine, Rwanda and Sudan.