A huge crowd of Catholic faithful, many of whom had camped under the stars, attended Sunday's Mass led by the pope on a vast plain in the village of Brzegi outside the Polish city of Krakow.
In his homily, Francis called on young people to "believe in a new humanity" that rejects hatred between different peoples and does not misuse national borders as barriers.
He also returned to a central tenet of the Christian faith, exhorting his listeners to show "real courage, the courage to be more powerful than evil, by loving everyone, even our enemies."
Pope Francis announced plans to hold the next World Youth Day in Panama in 2019.
According to the AFP news agency, organizers put the number of those attending the Mass at around 2.5 million, but police declined to give an estimate.
'Don't vegetate'
On Saturday evening, at the same site, Francis had told hundreds of thousands of young people gathered to hear his main address that they should reject being "couch potatoes" addicted to video games, computer screens and smartphones, and instead leave their mark on the world as "politicians, thinkers, social activists."
"Dear young people, we didn't come into this world to vegetate, to take it easy, to make our lives a comfortable sofa to fall asleep on," he said.
"No, we came for another reason: To leave a mark."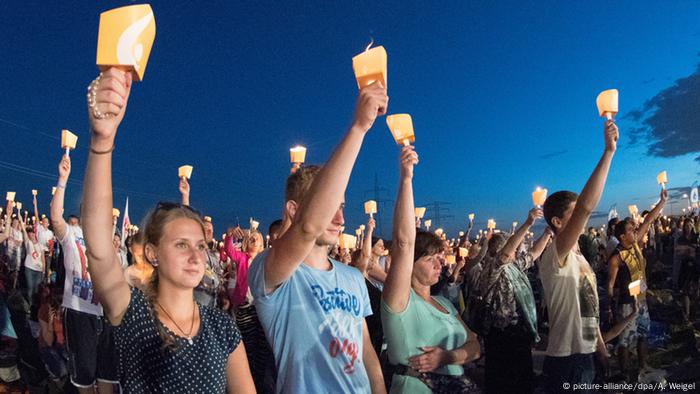 Hundreds of thousands of young people from all over the world gathered in Poland for the Catholic jamboree
Computer-induced isolation
He warned of "drowsy and dull kids who confuse happiness with a sofa," saying that following Jesus called for "a good dose of courage, a readiness to trade in the sofa for a pair of walking shoes and to set out on new and uncharted paths."
A ballet performance at the site before his speech underlined his message that consumerism and computers can lead to isolation. In the performance, a lonely woman sought contact with her fellow humans, but was constantly confronted with people glued to computer tablets and cellphones before finally meeting one man ready to connect with her.
In his remarks, the pontiff also prayed for God to rid the world of the "devastating wave of terrorism."
The way to "overcome fear," he added, was to show compassion to people fleeing conflicts and persecution, a remark that carries special weight in Poland, which has cited the risk of terrorism as one reason for its hard line on refugees.
Multiculturalism 'an opportunity'
At the vigil on Saturday evening, he called on the world's young to "teach us how to live in diversity, in dialogue, to experience multiculturalism not as a threat, but an opportunity."
During his five-day visit to Poland, Francis also on Friday visited the Auschwitz-Birkenau death camp, where 1.1 million people met their deaths under the Nazi regime.
The 79-year-old pope did not hold any speech at the site, but met several Holocaust survivors and Catholics who had saved Jews.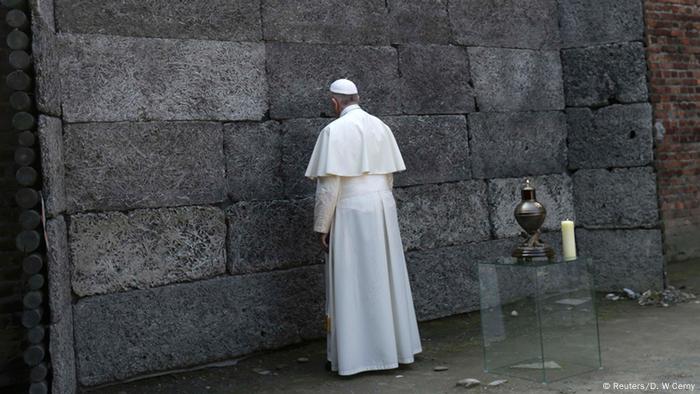 At Auschwitz, the pope spent much time in prayer
On Saturday, he also celebrated Mass with priests, nuns and seminarians at a shrine dedicated to St. John Paul II, the Polish pope who in 1979 urged his compatriots to oppose communism and stand up for individual freedoms.
It was the Argentinean pontiff's first-ever visit to eastern Europe. His five-day stay focused on the World Youth Day, which is organized by the Catholic Church every two or three years.
tj/jlw (AFP, AP)