On the fourth day of his trip to Poland, Francis addressed some 2,000 Polish bishops and priests at a shrine dedicated to the late Polish pope John Paul II, who has cult-like status his homeland.
He told them to leave their comfort zones and tend to the needy on the peripheries.
Francis said it was important for church leaders not to lead "two-track lives" or to "remain enclosed, out of fear or convenience, within ourselves..."
The modern church, on the outskirts of the southern city of Krakow, was built in memory of John Paul II, who was credited with helping the country shake off communism in the 1980s.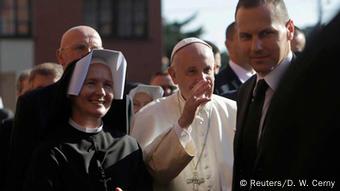 Pope Francis is making his first visit to Poland
'Lead simple lives'
Francis, whose trip is his first to an Eastern European country, also told the clergy that as "Jesus' closest disciples," their lives should be marked by modesty and humility.
Polish church leaders have faced some criticism for their apparent wealth, when many Poles are suffering from the country's difficult transition from communism to capitalism.
Later Saturday, he spoke to tens of thousands of young pilgrims in a meadow just outside Krakow, calling on them pray for the people suffering during the war in Syria. He also told young followers not to be "couch potatoes" but to take risks as they seek to build a better world.
On Friday, Pope Francis also visited the former Nazi death camp at Auschwitz, where an estimated 1.1 million people were killed. He met with several Holocaust survivors.
Francis will end his trip to Poland on Sunday following a giant open-air mass, which is the crowning event of the church's youth jamboree.
mm/rc (AP, Reuters)