Organizers of the New Year festivities in Germany's capital said hundreds of thousands of people were present on Saturday night, barely two weeks after Tunisian Anis Amri rammed a truck into a Berlin Christmas market.
The Festmeile (party mile) which leads to the city's famous Brandenburg Gate, which was packed with revelers, was ringed by concrete barriers in an attempt to prevent similar rampage incidents. In the late afternoon twilight revelers across Berlin lit fireworks, with a massive display around midnight continuing into the early hours of Sunday.
Berlin police said apart from two cases of sexual harassment, the evening passed off peacefully.
DW's Laura Schneider reported that earlier in the evening, a man was arrested after he shouted "bomb, bomb, bomb" during the Berlin celebrations at the city's landmark Brandenburg Gate. Police tweeted that it was 'not funny' and he would now be welcoming in the New Year with them.
Unease in Cologne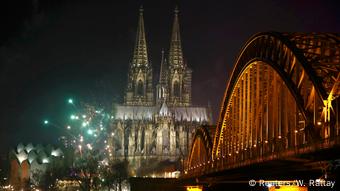 Cologne's main Cathedral lit up with fireworks
In Cologne, the scene of last year's sexual harrassment and attacks on New Year's Eve, more than a thousand extra police, including many women officers, were deployed for duty.
At one point, police said they security screened more than 1,000 men of North African origin as they arrived at Cologne's main railway station, and a station in another suburb of the city. DW's Dana Regev tweeted that the men were having their identities checked.
Last year, hundreds of women claimed they were sexually assaulted by large groups of migrants, who also carried out mass robberies among the revelers while letting off fireworks. The incident led to widespread public outrage.
Several other German cities remained on high alert on Saturday night, amid terrorism concerns and fears of a repeat of last year's events in Cologne.
Turkey not spared
While Germany escaped any further atrocity, a lone gunman dressed as Santa Claus, gunned down dozens of New Year revelers at a nighclub in Turkey's largest city, Istanbul. The city's governor said at least 35 people were killed and a similar number wounded.
It was the latest attack on a country that was targeted several times in 2016, and where more than 180 people have died.
Europe on alert
Elsewhere in Europe, additional security measures put in place following the Berlin attack, helped put revelers minds at ease.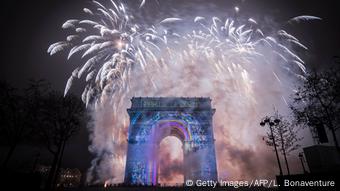 Paris' Arc de Triomphe was part of a laser and fireworks display
Across France, an extra 90,000 police and army were deployed to watch over New Year celebrations.
Despite the icy temperatures, hundreds of thousands of people turned out in Paris' Champs-Élysées for the annual fireworks display.
There were similar scenes in London, where party-goers gathered on the banks of the River Thames for a 12-minute fireworks show put to the music of many artists who had died in 2016, including David Bowie, Prince and George Michael.
Spain's New Year tradition of the 12 grapes, where revelers eat a grape during each of the 12 bells at midnight of the clock tower at Madrid's Puerta del Sol, was also as popular as ever.
mm/kl (AFP, AP, dpa)