Mohamed Al Jassem, a Kurd from Syria, learned to cook in a camp for internally displaced persons (IDPs) run by the Red Cross in the north of the country. He worked there as a volunteer, and he learned to cook.
When the war escalated, Mohamed fled, crossing Turkey and the Balkans, Serbia and Hungary. Now he lives in Vienna, where he was granted asylum. He still cooks, but no longer for people in need: Now he prepares dishes for customers at Habibi & Hawara, a fusion restaurant on Wipplingerstrasse, in central Vienna that opened in May.
Hiba Al Najjar works in the kitchen there, too. Like Mohamed, Hiba fled conflict in Syria and walked the Balkan route before coming to Austria and getting asylum. But unlike Mohamed, she already knew how to cook. She loves cooking, but used to only do it at home. "It is not very common in Damascus, where I come from, that women work in a restaurant kitchen. Although not forbidden, it is basically a job for men."
Cooking changed from a passion to a job when she moved to Beirut, the Lebanese capital. "Lebanon is a more open country, there is much more equality between men and women. To get money, I worked in an Italian restaurant. I started as a waitress, I ended as chef." Like many other Syrian refugees, she too, made her way to Europe.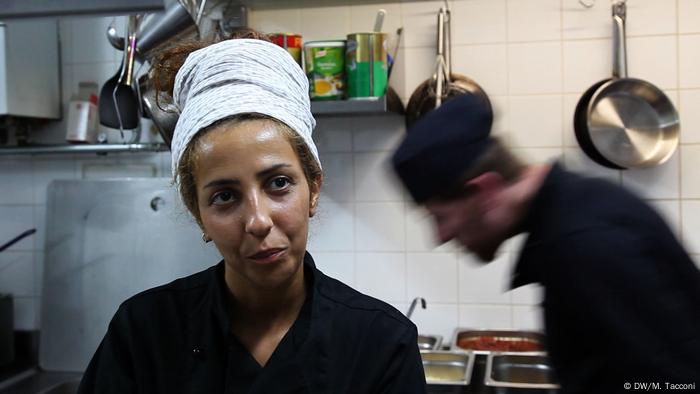 Hiba Al Najjar worked in a restaurant in Lebanon before Habibi & Hawara
Hiba found Habibi & Hawara, where she is in charge of vegan dishes, with the help of Diakonie, the social arm of Austria's Protestant churches. Mohamed applied for his position via an online posting. He had begun his job search once he had been granted the right to stay in Austria, and thus, the right to work. "I did not want to depend anymore on the financial support provided by the state for asylum-seekers."
Mohamed and Hiba are only two of numerous refugees who work at Habibi & Hawara. The restaurant makes a point of hiring those who arrived in Austria during last year's large influx of asylum-seekers. And though there are many initiatives in Vienna aimed at fostering refugees' integration and quick accession to the labor market, Habibi & Hawara is different, and somehow special, because it is a private initiative.
Native know-how
The owner of the restaurant is Martin Rohla, who also runs an organic farm outside Vienna.
"Habibi & Hawara's ultimate goal is teaching our workers how to run a company in Austria," he says. "We look at Habibi & Hawara as a flagship store. We want to open other restaurants with the same name in Austria and maybe abroad. Refugees will run them."
Rohla developed the idea when, last summer, during the peak of the refugee crisis, he opened up his farm Stadtflucht Bergmühle, to the newcomers. "Often we invited refugee families for a lunch and asked our Austrian customers to talk to them, cook or take care of their children. It was a nice experience, and we found that they were nice, educated and skilled. A chance, not a problem," Rohla recalls.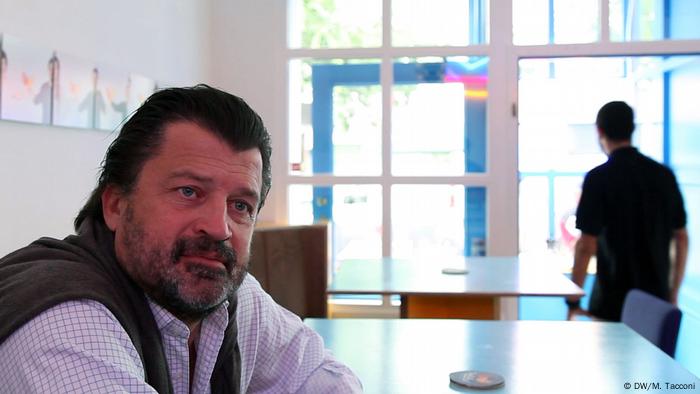 Martin Rohla hit upon the idea for Habibi & Hawara after getting to know some refugees at his farm
It prompted him to start thinking about how long it would take a refugee to launch his or her own company in Austria. "He has to learn the language, the basic rules of how to run it and things like this. It is a long way. So we decided to found a company with and for them."
Fifteen people work in Habibi & Hawara. Most of them are Syrian refugees, while the management is Austrian. The Austrians are needed to provide the refugees with know-how and make their tasks easier in this first stage of work.
Refugees show strong commitment, says Hagar Ashiba, an Austrian of Egyptian descent who works in the restaurant. "They are very motivated, they do their best to improve their performance. And they learn very fast. But they still have to forget their Arab laziness!" she jokes.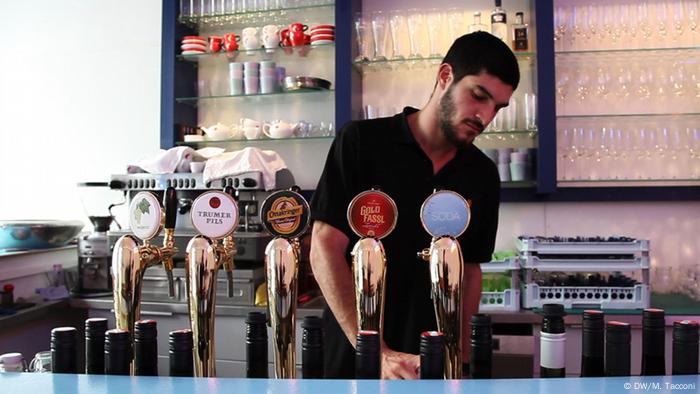 Suri Zayat has learned to cater to Austrian tastes since coming to Vienna
Though many of the employees have a background in the food industry, everybody has more to learn, including Suri Zayat, an experienced bartender. "I worked as barman in Syria, and I do the same here. I was already trained, but I had never prepared a spritz before," he remarks.
The first few months have been a success for Habibi & Hawara. New customers come every day - and not only to be supportive of refugees. The food, a balanced compromise between oriental and Austrian cuisine, has earned positive reviews in local media and websites.
"We heard of this restaurant and the story behind it," one new guest told DW. "Being here is a way to support refugees a little bit. But we also were curious about the menu, and we have had some very nice surprises," he says.