It is what drives Mazoun Almellehan to her core. Mazoun's deep brown eyes and quick smile betray a depth of intelligence and understanding beyond her teenage years. Her ardent advocacy of education, especially for refugee children like herself, has earned her the title "the Malala of Syria" after education campaigner Malala Yousafzai.
Malala survived an assassination attempt several years ago by the Taliban to gun her down for her activism. Malala has championed the cause of girls' right to education in her native Pakistan and throughout the world. Mazoun is doing the same.
"Education, to me, is very important. It's the most important right for children," said Mazoun, speaking at a desert camp for Syrian refugees in Azraq, some 100 kilometers (60 miles) east of the Jordanian capital, Amman, where she lives with her family of six.
Education: Syria's future
"As refugees, we can't afford to stop our education," emphasized the petite girl wearing a bold turquoise, abstract-printed headscarf. "On the contrary, in such difficult circumstances we need to focus and strengthen our resolve and capabilities for the moment we can return to Syria. Syria will need doctors, engineers and teachers. We always need to keep our future in mind," she said.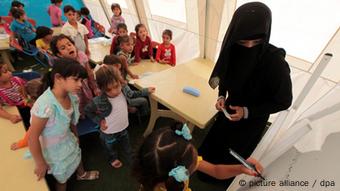 A teacher gives a lesson for Syrian refugee children at Zaatari camp
The United Nations children's agency has warned that deadly conflicts in the Middle East are forcing millions of children to miss out on their education, creating a lost generation that could lead to more militancy and migration. More than half of Syrian refugee children, or about 700,000, are not attending school. UNICEF said the lack of access to education was helping drive the desperate attempts by Syrian and Iraqi refugees to reach Europe.
Coming from a family of educators, it's easy to understand Mazoun's passion for learning. But she said her great encourager has been Malala, the world's most famous education activist. Mazoun and Malala became fast friends after Malala made a couple of visits to Jordan's refugee camps.
Inspiration Malala
"I am so happy for my friendship with Malala. She overcame so many obstacles in her life. She inspires me to love learning even more," Mazoun gushed. "Single-handedly, she has encouraged so many girls to be serious about their pursuing education and to fight for their rights. She is an incredible influence everywhere she goes," Mazoun said.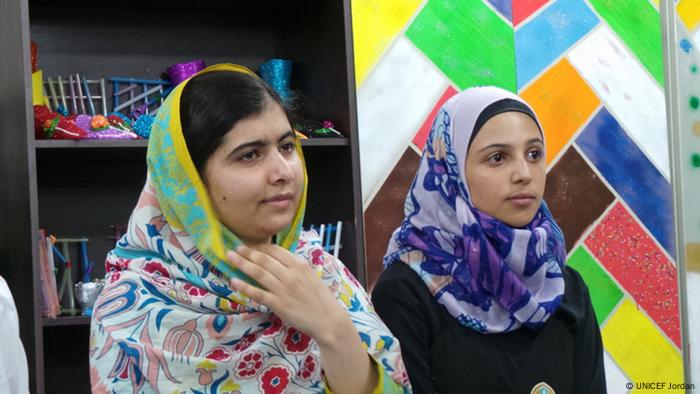 Malala (left) is a great inspiration and friend for Mazoun (right)
Mazoun has had her work cut out for her in Jordan's camps for Syrian refugees. Fleeing the bombardment and destruction of their hometown of Daraa across the border, Mazoun's family first arrived at Jordan's biggest and most crowded refugee camp at Zaatari. There, she was shocked.
"Some of the girls at the Zaatari camp did not consider going to school important. They would turn up to the class, but for them getting married was a better option," she said. "Some of their mothers drummed it into their heads that marriage, rather than education, was the best and safest plan for their future. So they dropped out and got married."
Child brides face sexual abuse
But a number of these child brides fell victim to sexual and domestic abuse having wed much older Arab men mainly from rich Gulf countries. Although their families received a dowry when they married, in the end many girls faced more limited economic prospects due to a loss of schooling and got trapped in a vicious cycle of poverty, UNICEF has reported. Seeing this prompted Mazoun to fight against early marriage for girls, said her father, a teacher at the Azraq camp school.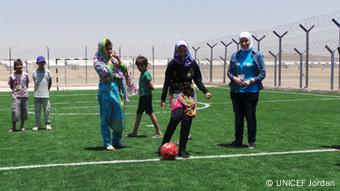 On the pitch: challening another male domain
"I urged the girls to resist early marriage in order to protect their educational opportunities," Mazoun said. So, she uses every chance she has, whether in class, visiting neighbors, or playing to get her message across. "Please seriously consider your education. Don't leave it because it's the most valuable thing in your life," Mazoun tells them. "Boys and girls must have the chance to learn and work together for a better future."