"Do you want the European Union to impose a mandatory settlement of non-Hungarian citizens in Hungary without the consent of parliament?"
That is the convoluted and at the same time rhetorical question that the Hungarian government is putting to the roughly 8 million eligible voters this Sunday. And signs calling for a "no" have been hung up all over the country - just to be sure that everyone understands.
The government also wants to win over people who normally do not vote for Fidesz, Prime Minister Viktor Orban's party. His close associate and historian Laszlo Tokeczki recently told a public broadcaster: "You have to make it clear to feminists, homosexuals, Jews and atheists that it's over for them if Islam wins." And it has also been suggested that less social assistance will be offered to the otherwise unpopular Roma minority if more refugees lived in the country.
Hungary was outvoted
The reason for this campaign is the EU's decision at the height of the refugee crisis in the fall of 2015 to help the most affected countries, Greece and Italy, by moving the migrants who landed there and distributing them across the bloc on the basis of a distribution key.
The Hungarian government, along with Romania, Slovakia and the Czech Republic, was outvoted in the EU's council of interior ministers. Hungary is holding a referendum on Sunday but not only to protest. Hungary and Slovakia have filed a lawsuit with the European Court against the decision.
The distribution has been a disaster so far. Of the 160,000 refugees who were originally supposed to be redistributed, not even 5,000 have found a new home. Hungary has not received a single asylum seeker.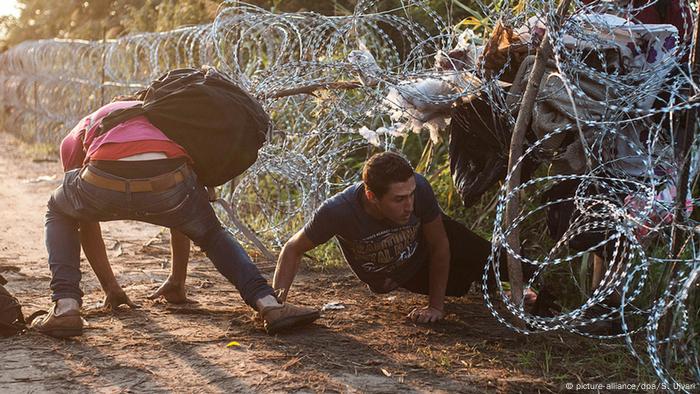 Hungary's fence against unwanted immigrants will be reinforced
The 'poison' of immigration
Orban is not only interested in the EU decision; the matter actually is something fundamental. To him, immigration is a "poison," a threat to European culture and a source of terrorism and all other forms of crime.
Among European leaders, he was the first and most vociferous opponent of German Chancellor Angela Merkel's "open door" policy on migration. Actions followed words, and soon he had hundreds of kilometers of barbed wire lining the Hungarian border with Serbia and Croatia to keep refugees out of his country.
Members of the Hungarian government cite Germany as a cautionary example in order to convince citizens of their position. After the attacks on women in Cologne on New Year's Eve, Orban said, "I have four daughters and I do not want my children to grow up in a world where things like Cologne happen."
Parliamentary president Laszlo Köver believes that Mesut Özil, a German soccer player with a Turkish background, is living proof of failed integration because he does not even sing the German national anthem before matches.
'Solidarity must be given voluntarily'
While Orban was alone last year when he publicly railed against Merkel's policies, he has found more and more supporters over time. At first, they mainly came from Eastern Europe but then elsewhere, even in Merkel's conservative Christian Democratic Union (CDU).
Michael Stübgen, a Christian Democrat and chairman of the German-Hungarian all-party parliamentary group, told the German public broadcaster Südwestrundfunk that he understood many Hungarians' fear of uncontrolled immigration. He said he considers it wrong to force countries to accept refugees.
At first, some German politicians played with the idea of punishing countries that refused to receive refugees. But now that resistance to more immigrants in Europe has hardened in practically all member states, almost no one is insisting on the distribution quotas. Even EU Commission President Jean-Claude Juncker said a few days ago: "Solidarity must be given voluntarily." He added that some help by receiving refugees; others through border management.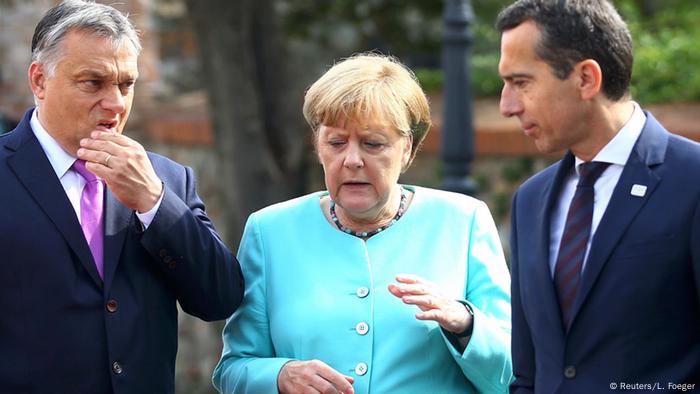 Differing views on refugees: Orban (left), Merkel and Austrian Chancellor Christian Kern, who has taken Orban's stance
More UFOs than refugees?
Orban's problem is not the opinion of the population, which is clearly on his side. Polls show an approval rating of over 80 percent. His problem may end up being whether enough eligible voters participate.
If at least every second eligible voter takes part, then the referendum result is valid. If Orban receives the desired result, he is even more likely to feel like the leader of a movement to save European culture and will probably present himself in this manner in Brussels.
And what happens if the referendum is not valid due to a low voter turnout? The government has also made provisions for this eventuality. Government spokesman Zoltan Kovacs said that a high number of "no" votes is enough to consolidate Orban's position. "The referendum cannot be a failure. Period."
Orban's campaign against unwanted immigration seems to have met with success. For weeks, Hungarian police have recorded no more than one illegal crossing a day - if any at all. In 2015, the country granted asylum to 500 people and this year, a similarly low number is expected.
The satirical party "Dog With Two Tails" has handed out leaflets saying that a Hungarian has more chance of seeing a UFO in his lifetime than a migrant. For anyone who's interested in numbers: The Hungarian UFO research association receives about 12 reports of UFO sightings a year.