Taxi rides from airport to downtown are seldom scenic. This week, however, the road between Liszt Ferenc Airport and Budapest is particularly unwelcoming. As Sunday's referendum on EU-imposed migrant quotas looms, dozens of anti-migrant billboards line the highway, warning of the dangers posed by foreign immigrants.
However foreigners arriving to buy Hungarian permanent residency bonds could be forgiven for failing to notice Prime Minister Viktor Orban's virulent anti-migrant campaign, thanks to both the opacity of the Hungarian language, and the generousness of the deals on offer.
The European Bond Program is a Hungarian government-backed scheme that refers potential applicants to the mainly offshore companies that broker the sales. Its website promises a "lifetime Hungarian residence permit for the whole family in two months," underlining that "the permanent residence (sic) permit is actually a lifetime Schengen visa allowing free travelling in Europe."
Cheap deals for residency
On arrival in Budapest, applicants are welcomed into one of six government-assigned offices that operate as intermediaries for the mostly offshore bond-issuing companies. Clients pay 360,000 euros ($400,000) for a five-year bond, and after that period receive back 300,000 euros, making the deal one of the cheapest in the EU. So far the program has awarded permanent residencies to families from countries including Egypt, Algeria, Iran, Jordan and Turkey.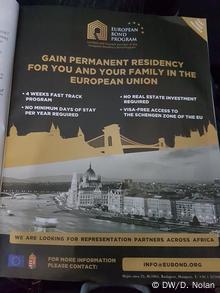 The European Bon Program promises visa-free access to the Schengen zone
"This 360,000 euro includes four family members and we ask 2,000 euro for each additional family member," one agent told an applicant this week, adding that "with parents, you have to make it believable that they are [financially] dependent on you," DW learned. "You can't find [anything] cheaper on the European market," the agent added.
The bonds are increasingly popular. Hungary's Interior Minister Sandor Pinter, the man responsible for building and guarding the country's border fences with Serbia and Slovenia, recently said more than 18,000 people have received residency status in Hungary through the bond scheme since it was launched in 2013, raising 1.1 billion euros. Now business is escalating: 798 bonds were issued in August alone. Most of the bond clients are Chinese.
Orban's eldest daughter Rahel has also been mentioned in connection with the bond program via the man who registered the domain name for the European Bond Program website, the Hungarian honorary consul to Bahrain Balazs Garamvolgyi. A press release uncovered on a Bahrain ministry website by liberal news site 444.hu revealed that Orban and her husband had met with Garamvolgyi and a Bahrain minister to discuss issues of "benefit to the national economy of both friendly countries arising from improved co-operation." When the meeting was discovered, Orban said she and her husband had visited Bahrain for a holiday, and any other accusations were "all lies."
'Extreme double standard'
"Rich is good and poor is bad," said Marta Pardavi of the human rights organization Hungarian Helsinki Committee. "Not only that: the poor should go on suffering. This is an extreme double standard, particularly during this referendum campaign, which portrays Moslems as potential terrorists and incapable of integration," she told DW.
Orban showed a similar duplicity regarding Islam during last year's refugee crisis. Having said in late April that "we have the right to choose with whom we want and don't want to live" (and noting that Hungary's constitution - which his party wrote - bans "Islamization"), he paid tribute to Islamic culture - and even Sharia law - in front of a delegation of Arab bankers in early June.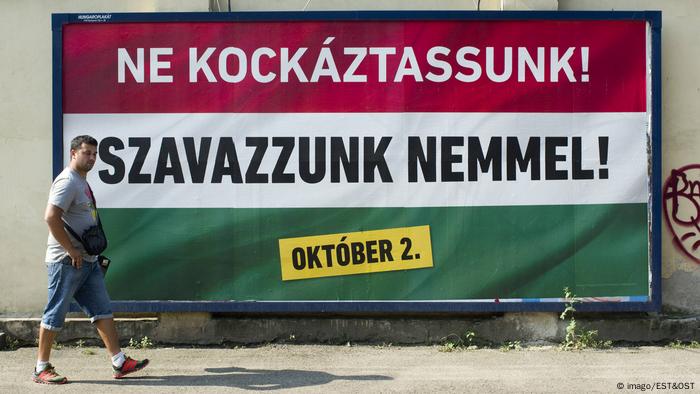 Hungary is scheduled to hold a referendum on October 2 - "let us not risk anything. Let's vote no" this poster reads
Speaking at the Budapest Hilton Hotel, Orban said Islam has "great spiritual and intellectual structures… therefore those arriving from the Islamic world do not pose a threat, but are representatives of a high civilization."
Passport mafia
Hungary has also played fast and loose with issuing Hungarian passports to citizens of neighboring countries. An investigation by Index, one of Hungary's leading news sites, uncovered a "passport mafia" of corrupt officials and lawyers who sold Hungarian passports to Russian and Ukrainian citizens for 10,000 euros. One official also confessed that he had signed off passports without carrying out mandatory Hungarian-language tests, accepting a bribe of 1,000 EUR for each.
The result of this proliferation of passports is that Hungarians with newer passports are now being subjected to extra passport controls when travelling from Ukraine. Lawyer Balazs Toth, 37, told DW that he and two other Hungarian men were taken from an airport queue in Kyiv last Thursday and held in a room so that their Hungarian language knowledge could be tested.
"An officer came and explained that too many Ukrainian people have illegally obtained Hungarian nationality. Then we realized that we all had that new kind of 'chipped' passport, which shows that those people with older passports had not been selected," Toth said. "This is not only about the Hungarian passport, this is about the EU's integrity," he added.
"This a huge scheme to make money for the inner circle - meanwhile we are invalidating our passport by selling it to anyone who is willing to pay," Tamas Bodoky of the Hungarian investigative website Atlatszo told DW.
As the bond agent told a prospective client this week: "if you have enough money to pay, then you are an important person."