There's a new presence among the political wonks of the German capital - and some of them are troubled by its possible agenda. The World Public Forum's Dialogue of Civilizations Research Institute (DOC) was launched with a six-hour event in Berlin on Friday. The institute, previously based in Vienna, was founded and financed by Vladimir Yakunin, a Russian businessman, associate of President Vladimir Putin's, and former Soviet diplomat rumored to have held a high rank in the KGB.
In a feature article, the "Frankfurter Allgemeine Zeitung" described DOC as an "instrument of Moscow's hybrid warfare" whose main intention was to create an "alternative civilization to the American."
The institute has denied any direct connections to the Kremlin - on its website, the DOC says it does not take any government funding at all. "We will not represent any Russian interests," German political scientist and DOC co-founder Peter Schulze told the "taz" newspaper. He added that the new institute would not concentrate on German-Russian relations, but address "global questions, such as demographic changes."
On its website, the DOC names six areas of research, including "Economics of Post-Modernity: When Conventional Models Fail" and "East and West: Bridging the Post-Modernity (post-'Global'?) Gap." The DOC also argues that it is filling a need for greater diversity among political institutes: "Nine out of the top 10 think tanks included in the 2015 Global Go To Think Tank Index Report are Western-European," the DOC says. "Accordingly, the current discourse lacks a real mutually respectful and globally representative dialogue."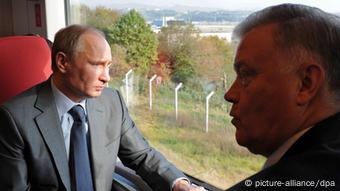 Yakunin and Putin in one of the trains that Yakunin controlled for 10 years
Funding and alliances
The DOC was previously best known for an annual conference on the Greek island of Rhodes, where intellectuals from China, Iran, Pakistan, India and Europe (though few from the US) are brought together to discuss developments in the world order.
But its ambitions appear to be growing. Though the DOC's funding is not spelled out on its website (and the institute did not respond to a request for comment), "FAZ" reported that Yakunin himself is investing 25 million euros ($27.8 million) over the next five years, and plans to employ some 20 people. Its own stated aim is to be among the world's "top 20 think tanks within five years."
Several other Russian businessmen are thought to have invested in the institute, and Yakunin is reported to have hired a headhunter agency to trawl other think tanks for talent. There are also rumors that the Berlin center is to be the headquarters of a worldwide network of such institutions, aimed at making "Russia's view of the world popular."
West-baiting
Yakunin's career has taken him from the Soviet Army through the Soviet Union's diplomatic mission to the United Nations, through Russia's Transport Ministry to finally become the president of Russia's state railway operator, a position he held till 2015. In 1996, he also became one of the co-founders, along with Putin, of the Ozero dacha housing cooperative - a circle of businessmen considered to be the Russian president's "inner circle," all of whose members have held powerful government or business positions in Russia since.
While the DOC website emphasizes that "mutual understanding is the fundamental prerequisite for humankind's inclusive development," Yakunin's own opinions have not exactly appeared inclusive in the past.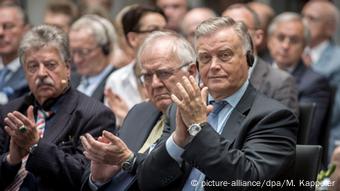 Yakunin insists that the DOC will redress the lack of diversity in Western think tanks
Yakunin has defended Russia's "gay propaganda law," which bans the distribution of material that promotes "non-traditional sexual relationships" among minors, and infamously accused those who voted for the Austrian Eurovision Song Contest winner and travesty artist Conchita Wurst of having an "abnormal psychology."
He also said that Ukraine's 2014 Euromaidan protest movement, which led to the downfall of President Viktor Yanukovych and a war with separatists in the eastern part of the country, had been hijacked by neo-Nazis.
At a speech in 2014 for the German-Russian Forum, an initiative that promotes German-Russian relations, Yakunin called on Europe to loosen its ties with the United States. "Why is everything that comes from across the ocean good - even the Iraq war?" he asked. "But every attempt by Russia to put forward a proposal is met negatively."
"Whether you search for understanding and dialogue, or whether you dance to the pipe of the USA - the prosperity of the European space depends to a great extent on that [question]," he said. In the same year, Yakunin was placed on the US State Department's sanctioned list in the wake of Russia's annexation of Crimea.
Perhaps for this reason, the German government has been attempting to extricate itself from any overt association with the DOC. "FAZ" reported that Matthias Platzeck, former Brandenburg state premier and chairman of the German-Russian Forum, was originally scheduled to speak at Friday's opening but was then only named as a participant, while Ronald Pofalla, Chancellor Angela Merkel's former chief of staff, canceled his speech.