At least two Palestinian protesters were killed during clashes with Israeli security forces in Gaza on Friday as protests over Jerusalem intensified.
Palestinian protesters also clashed with Israeli police across the West Bank after Friday prayers, as Muslims across the Middle East and elsewhere joined in condemning US President Donald Trump's decision to recognize Jerusalem as the capital of Israel.
In what has been dubbed a "day of rage," protesters in cities and towns threw stones at Israeli forces, who responded with tear gas and rubber bullets. Smoke was seen rising over Bethlehem.
Trump's announcement this week upended decades of US diplomatic efforts to maintain a semblance of objectivity while leaving the status of a contested Jerusalem to peace negotiations between the two sides. Palestinians want East Jerusalem as the capital for their future state, but Israel has refused that claim. Much of the international community considers East Jerusalem occupied territory.
Jerusalem is home to key holy sites for Jews, Muslims and Christians, including the Al-Aqsa Mosque in East Jerusalem.
More than a dozen Palestinians were hurt during Friday's clashes with police, according to Erab Fukaha, a spokeswoman for the Red Crescent paramedics. She said 12 Palestinians were injured by rubber bullets and one by live fire. More than 30 Palestinians were injured on Thursday in clashes with police.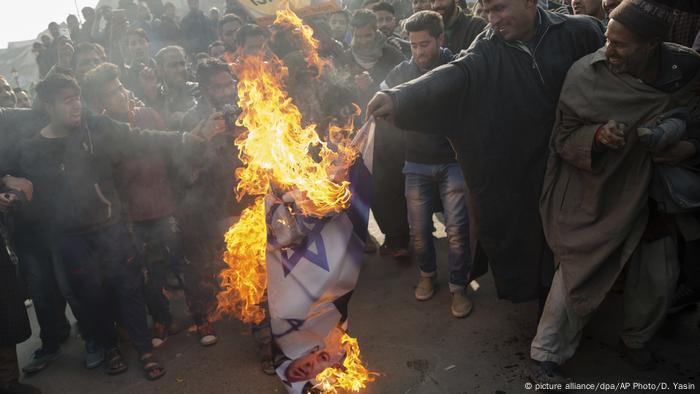 Kashmiri Muslims burn an Israeli flag
A call for holy war
Palestinian political groups had called for a day of rage in the West Bank, Gaza Strip and East Jerusalem on Friday, to protest Trump's decision.
Separately, in Gaza, the leader of Hamas, a militant Islamic group, is pushing for a third intifada, or uprising, against Israel. The first intifada erupted in December 1987 and ended in 1993. The second intifada began in September 2000 and ended about five years later. Thousands of Palestinians were killed in the two uprisings.
"Whoever moves his embassy to occupied Jerusalem will become an enemy of the Palestinians and a target of Palestinian factions," said Hamas leader Fathy Hammad as protesters in Gaza burnt posters of Trump. "We declare an intifada until the liberation of Jerusalem and all of Palestine."
Meanwhile, militant al-Qaida leaders urged their followers around the world to target the strategic interests of the US and Israel.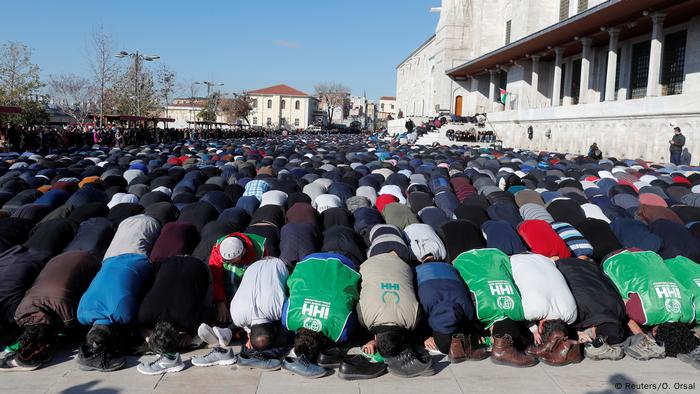 Demonstrators in Turkey hold a mass prayer to protest Trump's Jerusalem gambit
Muslims also took to the streets in Egypt, Jordan, Lebanon, Turkey, Pakistan, Afghanistan, Indonesia, Malaysia and Somalia.
More than 3,000 people protested outside a mosque in Istanbul, carrying Palestinian flags and chanting anti-US and anti-Israeli slogans. There were also protests in the capital, Ankara, and at least three other cities in Turkey.
Across the street from the embassy in Ankara, protesters chanted: "USA, take your bloodied hands off Jerusalem."
bik/msh (AP, Reuters, AFP, dpa)