The Geman-born leader of the so-called Sauerland Cell, Fritz Gelowicz, showed Germany that Islamist terror was a problem in its own back yard.
The 30-year-old Islam convert and his three accomplices, German Daniel Schneider, Turkish-German Attila Selek, and Turk Adem Yilmaz were captured in the west German region of Sauerland in 2007, with vast stockpiles of hydrogen peroxide, suitable for making car bombs and other explosives.
They said they planned to attack US military targets based in Germany, and that events in the so-called "War on Terror" had motivated them to take up arms.
"My client said that this decision came in 2004," Gelowicz's lawyer Dirk Uden told the regional high court in Dusseldorf. He explained that the US arrest and torture of a dual nationality German-Lebanese car dealer Chalid el-Masri – who was not involved in terrorist activity – was the main reason Gelowicz decided to begin working for the Islamic Jihad Union, a splinter terror group with its roots in Uzbekistan.
"He saw the pictures of Abu Ghraib, the pictures from Guantanamo Bay, and especially the fate of Chalid el-Masri, which he heard about through personal connections before it became common knowledge, and these things really influenced him. These events supported his decision to embark upon an armed Jihad."
Historic plea bargain
This hydrogen peroxide was to be made into lethal bombs
In exchange for shortened sentences, the group's members agreed to discuss their plans, and their time at a terror training camp in Pakistani region of Waziristan, close to the Afghan border.
"The confessions of the accused were the most comprehensive talks concerning terrorism ever heard in a German court of law," the director of the institute of terrorism research and security policy in Essen, Rolf Tophoven, told Deutsche Welle.
"They gave an exact description of what was going on in the terror training camps in Pakistan."
It's unclear how the group will plead, but Daniel Schneider has indicated he will probably plead guilty on attempted murder charges for shooting at a policeman trying to arrest him, acknowledging that the skirmish could easily "have had a deadly ending." A final verdict in the trial, which has lasted roughly nine months so far, is expected in March.
Terror concerns in Germany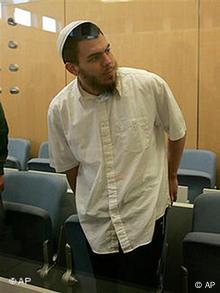 Daniel Schneider has admitted to trying to kill a policeman
There has not yet been a successful Islamist terror attack in Germany, however, experts concur that the country's military engagement in Afghanistan means it is considered a viable target.
"We are in the sights of Islamists because of the 4,500 soldiers posted in Afghanistan, and our other anti-terrorist operations," said Tophoven.
"From the point of view of the terrorists, there are good reasons to attack Germany, and were an attack here ever to succeed, I am sure that the mission in Afghanistan would be used as justification for it."
Tophoven also says it should come as no surprise that the Sauerland Cell was a home-grown organization, led by German converts to Islam.
"A minority of converts to a new religion want to prove that they are tougher than the people born into the religion. They want to establish themselves and prove their conviction in their new faith, and this can lead to extremism."
Author: Mark Hallam
Editor: Sonia Phalnikar