Cars flying Russian flags passed cheering people on the streets of Sevastopol and Simferopol on Saturday (01.03.2014) as pro-Russian Crimeans welcomed the unanimous decision by the Russian parliament to approve the use of the armed forces in Ukraine.
The news followed an earlier decision to move up a referendum on the status of the semi-autonomous region from May 25 to March 30, a decision that was greeted with enthusiasm by Crimea's Russian community, who make up about 60 percent of the population. The referendum could be the first step towards greater independence for the peninsula, and could lead to a possible secession from Ukraine or even a decision to join the Russian Federation.

Symbol of bravery
On Saturday, mass rallies were held in Crimea's two major cities. In Sevastopol, a crowd estimated at more than 5,000 people gathered in the main square, not far from the city's administration building.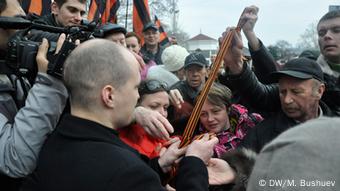 Many Crimeans have been waving Russian flags and wearing the St. George's Ribbon
They chanted "Rossiya, Rossiya!" and many wore the St. George's Ribbon, a well-known Russian symbol of military valor that is worn in remembrance of the victory over Nazi Germany. In 1941-1942, the seaport of Sevastopol was the scene of one of the fiercest battles of World War II. Russia's Black Sea Fleet is still stationed in the city today under a lease agreement with the Ukrainian government.
Most of the protesters are in favor of a rapprochement with Russia. "It is our choice. Why does the media not report this?" asked Svetlana Konysheva, an accountant from Sevastopol. She said she was surprised that the Ukrainian media was "reporting on the fear and panic among Crimeans" when, in her opinion, the opposite is true.
Little understanding for new leadership
Rarely has the atmosphere here been so politically charged. In cafes, grocery stores and on the street, politics is all anyone talks about. Until very recently, it was completely different. "Normally, it's very, very quiet," said Galina, a small business owner. "We stayed silent during the protests in Kyiv, up until the new government decided to overturn the language law. That was the last straw. Suddenly, 30,000 people filled this square."
Most people in Sevastopol have little understanding for Kyiv's revolution, but at the same time, only a minority believe that ousted President Viktor Yanukovych was good leader. The new government in Kyiv, however, has made many in Crimea uneasy. The phrase "We don't want a Maidan here" is seen on some of the posters in the city, referring to the main square where months of protests were held in Kyiv.
Russians living in Sevastopol and Simferopol were mainly concerned that their right to be able to use Russian as a regional language will be preserved. On Friday (28.02.2014), Ukraine's interim President Oleksandr Turchynov overturned parliament's decision to repeal the law.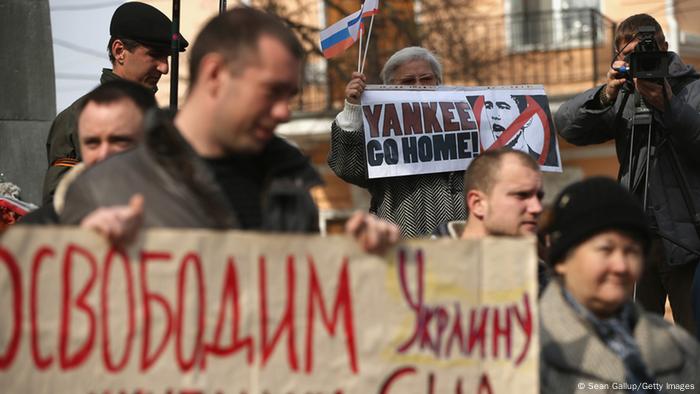 Pro-Russia sympathizers demonstrated with signs: "We will free Ukraine from American occupation"
Russian citizens in Crimea also hope that Moscow will boost the ailing economy on the peninsula. "We have been a part of Ukraine for more than 20 years. And what has Ukraine done for Crimea?" asked Oleg Tanzüra, a painter. "We have a national debt of $130 billion (94 billion euros) that will have to be paid by my grandchildren. And our economy is in tatters." Tanzüra said he has been "inspired by the energy of the protests."
Concerns of the other side
But by no means is everyone in Crimea glad that Ukraine's crisis has taken this turn. This includes some Russians, not all of whom support Moscow's actions. "I'm afraid that it could lead to war," said Pavel, a manager from Simferopol.
The minorities living on the peninsula are deeply concerned, among them the Crimean Tatars, who make up about 15 percent of the population, and the Ukrainian speakers, who represent 10 percent. "We are only a half step away from disaster," said Refat Chubarov, head of the Tatar community.
The Tatars have not had good experiences with Kremlin policy. During World War II, Soviet dictator Josef Stalin ordered their forcible relocation to Central Asia. They want Ukraine to remain intact, and are against Crimea's secession. Chubarov has asked citizens not to panic and to stick together, calling for calm on television.
For the Ukrainian-speakers on the peninsula, most of whom supported the revolution in Kyiv, Russia's decision has come as a shock. Andrei Shekun, coordinator of the Euromaidan Crimea movement, told DW that they are now afraid to protest, adding that he has been attacked on the street.