"Ukrainian society and the parliament do not trust unilateral steps any more," Poroshenko told journalists in Berlin on Monday. More than 1,200 bombings were recorded in January and the rebel fighters also used heavy artillery despite the conditions set out in the 2015 Minsk peace deal, the president said.
Poroshenko also referred to Moscow as the "proxy fighter" and aggressor in the eastern Ukraine conflict. He said it was terrible that the region was still not safe despite the agreement.
At a meeting with the Ukrainian president, German Chancellor Angela Merkel also expressed concerns about unabated fighting in Ukraine's eastern rebel-controlled regions, saying, "we unfortunately still do not have a sustainable ceasefire."
She said the lifting of sanctions against Russia depended on the Minsk process. Her spokesman Steffen Seibert tweeted this message, which said the Minsk deal remained a prerequisite for a removal of sanctions against Moscow.
A ceasefire was the main condition of the peace deal between Ukraine and pro-Russian separatists in the country's eastern Donbass region. The agreement was signed last February in the presence of Germany, France and Russia and includes a timetable to enable both sides to come to a political solution.
Meanwhile, the parliament in Kyiv was expected to begin discussions on constitutional reforms to give the separatist regions special status within Ukraine. Poroshenko will need a two-thirds majority to pass the changes, which could be difficult considering the ongoing violence in the Donbass region.
More than 9,000 people have died since the conflict began in eastern Ukraine in early 2014, following Russia's annexation of Crimea. Western countries accuse Russia of supporting the anti-Kyiv rebels, a charge which Moscow denies.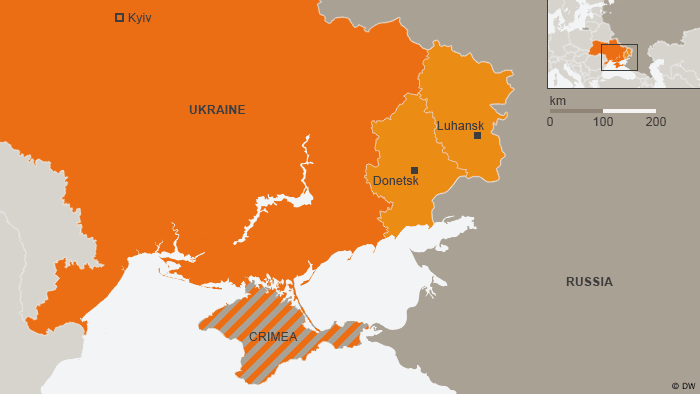 mg/ng (Reuters, dpa)