Watching workers add a new coat of paint to Benedict's birth house, Erwin Frohnwieser said he was less than impressed with the timing.
"They're not very well organized if they still have to work on a Sunday," said the 45-year-old pilgrim, who had biked 150 kilometers (93 miles) from western Bavaria with his wife and friends to see the pope celebrate mass in nearby Altötting on Monday.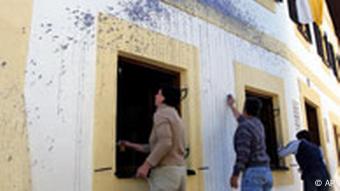 Marktl residents clean the birth house of the pope after a color attack
What Frohnwieser didn't know was that village officials were trying to deal with a last-minute act of vandalism: Someone had thrown blue paint on the freshly renovated house the night before.
Though it's still unclear who was responsible, authorities in Marktl are confident they will be done before the pope arrives.
"We're finishing up here and will be ready," said Mayor Hubert Gschwender as he observed the repairs.
"Everything began here"
The house is now owned by the Catholic church and will open for visitors just after the pope's visit. Benedict is not scheduled to enter it during his 15-minute visit that will include a quick drive through town, where he will be able to see the new column erected in his honor and stop for prayer in Marktl's church, where he was baptized.
"Everything began here," Josef Kaiser, the town's Catholic pastor, recently told DW-RADIO. "Here his (the pope's) parents gave him the gift of life, here he learned to speak and walk," Kaiser said. "The family was only here for two years, but this was the foundation. Without Marktl, he wouldn't be here."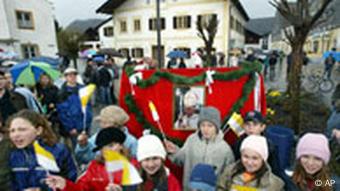 Marktl children wave in front of Benedict's birth house in 2005 after he was elected pope
A sleepy Bavarian village with some 2,700 residents, Marktl was catapulted into the global limelight when Cardinal Joseph Ratzinger was elected pope on Aug. 19, 2005.
Marktl was immediately swarming with journalists, who were soon followed by pilgrims eager to see where Benedict was from.
Tasteful souvenirs?
It didn't take long for dozens of souvenirs to appear in window displays of virtually every store in town.
"The pope caps -- that's what it all started with on April 20, 2005," said Roswitha Leukert, pointing to a tray with pastries in her bakery, which sits just a few houses down the street from the birth house.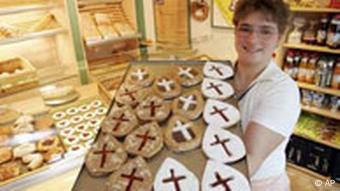 Local bakeries in Marktl are busy baking pope goodies
Since then, Leukert's husband Wolfgang has come up with many new products to celebrate the pope. While Benediktschnitten, or Benedict slices, are also sold at another bakery, the Leukerts have copyrighted their signature miter pastries, Roswitha Leukert said.
"We just wanted a symbol that looks good and tastes great," she said, adding that she feels Martkl's papal memorabilia are much more tasteful than those she saw during a pilgrimage to Rome earlier this year. Besides, why shouldn't Marktl cater to its new-found visitors?
"It's really quite normal to present oneself a little," Leukert said, adding that she was looking forward to wave to the pope from outside her shop. "I still don't understand why people made such a big fuss about it."
Getting a piece of the cake
Others saw things slightly differently.
"Everyone's trying to get a piece of the cake," said a 29-year-old man, who recently moved to Marktl and asked not to be named. "Some here are more Catholic than the pope."
But even he said that he was going to see the pope come home on Monday -- just like virtually all other villagers who had already decked out their houses in the Vatican's national colors of white and yellow and were flying papal flags from everything, including tractors.
"I thought about it for a long time, but if it happens in front of my doorstep, why shouldn't I go?" he said.
Benedikt Dittmann said he will also welcome his namesake -- and not just because he's volunteering as a Red Cross worker during the visit.
"It's all a little exaggerated, but it doesn't hurt Marktl and helps a little to make the town look nicer," said the 16-year-old as he observed the commotion on the village's market square, where TV teams and police officers were finishing up their preparations.