Pope Benedict arrived in the Bavarian capital of Munich on Saturday to a rapturous welcome by cheering crowds waving Vatican and Bavarian flags. The 79-year-old pontiff drove into the centre of town in his white "papamobile."
"It is very moving for me to be back in this beautiful square, at the foot of the column of the Virgin Mary," he said at Marienplatz, the main square of the Bavarian capital that was packed with crowds including many in traditional folk dress.
He smiled and nodded in agreement when Bavarian Premier
Edmund Stoiber announced: "Our German Pope has come back to his Bavarian homeland!"
Earlier, Munich's central shopping mile, Kaufingerstrasse, seemed almost deserted on Saturday morning. While the majority of Munich residents had heeded calls to avoid downtown, those coming to see Benedict arrive in the city were slow to trickle in.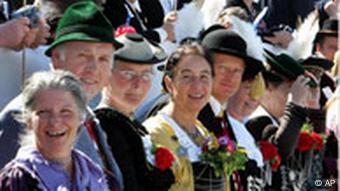 Bavarians are gathering to welcome the pope
"Maybe they're coming from somewhere else," said Christian Pröhl, a 19-year-old boy scout from the nearby town of Freising, who had volunteered to work at one of dozens of information points set up around the city to offer help to pilgrims.
"There are lots of ways that lead to Marienplatz," he added.
Marienplatz, the square in front of Munich's city hall, had been chosen as the place where the pope would first pray with people during his visit to Bavaria. It was here that he bid his final farewell when he left Munich as an archbishop in 1982 to move to Rome.
"Grüss Gott, daheim!" or "Welcome Home" read the headline of one of the city's Saturday papers that were on sale in boxes along the street. Restaurants that had advertised live screenings of World Cup soccer matches just a few weeks ago were not luring in guests with promises of live coverage of the pope's visit that would take place a few hundred meters away.
Pope prices
Some stores were even trying to convince people to drop in by offering a special "pope price" – a 10 percent discount. Many shops hadn't even opened on this crisp, sunny day while others decided to close early as nearly no one was coming by.
"We had one customer, the others were just looking for a restroom," said Daniela Schimanski, 32, who works at a clothing store on Marienplatz.
But even the day's ultimate sale items weren't flying off the stands early Saturday.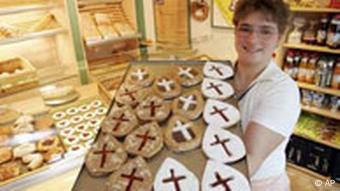 Pope memorablia and goodies still haven't been selling like hot cakes
"We've been here since Monday, but yesterday was the first day that people started opening up," said Jürgen Schreyeck, 57, who's been selling everything from pots and pans to building loans at street stalls for the past 30 years and was trying to find buyers for pope devotional objects including rosaries, T-shirts and coffee mugs with Benedict's image as well as yellow and white Vatican flags.
"Four euros ($5) for the one you hold in the hand and six for the one that attaches to the car," Schreyeck told a couple of women who had come to check out the merchandise.
"For me, these are the hardest things to sell," he said, adding that many people had questioned the ethics of selling papal knickknack.
"He doesn't really want all of that," Schreyeck said, referring to the pope. "He's really the simplest kind of man." But the salesman also made sure to point out that all his products had been officially sanctioned by the church.
"He speaks directly to the heart"
At Marienplatz, where the roaring of helicopters flying above mingled with the first "Be-ne-detto" chants, the most devoted pope admirers had already secured a space near St. Mary's column by noon to get as close as possible inside the high-security area. The pope wasn't expected to arrive before 5:30 p.m.
"I've been here since 8:30 a.m. – I just wanted to take in some of the atmosphere," said Sister Raphaela of the Vincentian Sisters of Charity order, who had come from the neighboring state of Baden-Württemberg, adding that she had become an admirer of the pope only recently.
"Before, I was neutral," said the 43-year-old nun, sitting on the ground just behind the bars set up before the column. "My opinion changed once I started reading his books. I really like his language. He speaks directly to the heart."
The Verjans family, who had driven six hours from the town of Mönchengladbach, was equally thrilled to get close to Benedict.
"It's great, we haven't seen him before," said 11-year-old Christine Verjans, who said she was passing the time with her 10-year-old brother, Bernhard, by playing tag, watching people and giving interviews to journalists. "It's great fun even though it'll still take so long before he comes."
Back at the information booth, boy scout Christian Pröhl said he wasn't too upset that he would not be able to see the pope in Munich as his shift went until 8 p.m.
"We're going to see him in Freising," he said, referring to the pope's final stop of his trip next Thursday. "It's cool that the pope is from Bavaria. If he'd been from somewhere else, I wouldn't really have cared that much."