Under mounting pressure from Muslim leaders to offer a personal apology, the head of the Roman Catholic Church stopped short of retracting his remarks made in Germany last week in which he quoted an obscure medieval text that criticized some teachings of the Prophet Mohammed as "evil and inhuman."
"I am deeply sorry for the reactions in some countries to a few passages of my address ... which were considered offensive to the sensibility of Muslims," the pope said during the traditional Angelus blessing from his summer residence at Castel Gandolfo outside Rome.
He stressed that the passages he quoted during a speech at Regensburg University Tuesday "do not in any way express my personal thought."
"Invitation to dialogue"
"I hope that this serves to appease hearts and to clarify the true meaning of my address, which in its totality was and is an invitation to frank and sincere dialogue, with great mutual respect," he added.
The apology came during a traditional blessing from his summer residence, Castel Gandolfo, seen here
The pope's comments in Germany had sparked widespread condemnation from Muslim leaders across the world, amid violent protests reminiscent of those that erupted after a Danish newspaper printed cartoons of the Prophet Mohammed a year ago.
His expression of sorrow on Sunday was stronger than that of "sincere regret" contained in a Vatican statement the day before, but it remained to be seen if it would satisfy Muslim demands for an unequivocal personal apology.
The Angelus blessing marked the pope's first public appearance since the furor broke over his university lecture, in which he also implicitly linked Islam with violence.
Increased national security
His words were greeted with warm applause by the Roman Catholic faithful who had braved pouring rain to receive the pope's blessing at Castel Gandolfo, just south of Rome.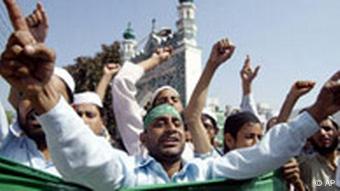 Muslims around the world angrily protested Pope Benedict's remarks
The Italian interior ministry told police chiefs to raise the level of national security on Sunday, amid violent threats by Islamist groups overseas.
A hardline cleric linked to Somalia's powerful Islamist movement called for Muslims to "hunt down" and kill the pope, while an armed Iraqi group threatened to carry out attacks against Rome and the Vatican.
Attacks on churches
A third day of attacks on Christian places of worship in the Palestinain territories saw unknown assailants throw Molotov cocktails and a burning tire at two Catholic churches in the northern West Bank.
The pope said the "true meaning" of what he said in Germany had been clarified by the Vatican's Secretary of State Cardinal Tarcisio Bertone on Saturday.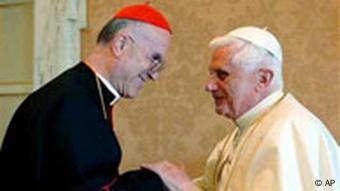 An apology from Vatican Secretary of State Bertone (left) on Saturday was widely rejected as insufficient
Bertone said the pope's words had been misinterpreted and were meant as a rejection of the religious motivation for violence, "from whatever side it may come."
That explanation had been angrily dismissed by many Muslim groups who pressed on with demands for a full and personal apology.
Calls for apology
"The pope made a mistake, he must recognize his mistake and apologize," said Abdel Moneim Abul Futuh, a senior official with Egypt's opposition Muslim Brotherhood.
The scale and intensity of the Muslim reaction had cast doubts on the pope's next scheduled foreign trip in November to Turkey.
However, Turkish Foreign Minister Abdullah Gul said Sunday that the visit would go ahead as planned.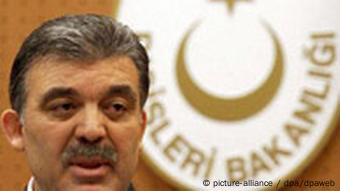 Turkish Foreign Minister Abdullah Gül
"A change is out of the question for us right now," Gul said, while describing the pope's remarks in Germany as "really unfortunate" and a setback for efforts to promote better
understanding between religions and cultures.
Meanwhile, some Syrian Muslim and Christian clergymen expressed satisfaction Sunday following Pope Benedict XVI's statement.
Mohammad Habash, a legislator and head of the Islamic Studies Centre, said: "I am not happy to see a rift between Islam and Christians or between the West and the East.... We have to avoid our countries and religions from entering these kinds of conflicts."
Calls for dialogue
He said the Pope has submitted a "clarification and not an apology," but, Habash added: "It is our duty to call for calm and dialogue. We understand the reasons for (Muslim) anger, but we do not call for it and we call instead for calm and dialogue."
Meanwhile, Isidore Battikha, the Greek Catholic Bishop of Homs in central Syria, said "that's what we were expecting from the Pope as the teachings of Jesus call for tolerance and moderation."
"We are pleased that he has corrected this mistake and we hope that hearts would remain open between Muslims and Christians and to go on with the process of coexistence," he added.