Tens of thousands of Egyptian Christians packed into a stadium in Cairo on Saturday to celebrate a Mass with Pope Francis on the final day of his visit to Egypt.
A jubilant crowd of around 15,000 people released yellow and white balloons as Francis circled the Air Defense Stadium in an open golf cart, waving to the cheering stands.
Saturday's Mass brought together members of all Catholic rites in the country - Coptic, Armenian, Maronite and Melkite. Egypt has the largest Christian community in the region, comprising around 10 percent of the country's mostly Muslim population of 92 million.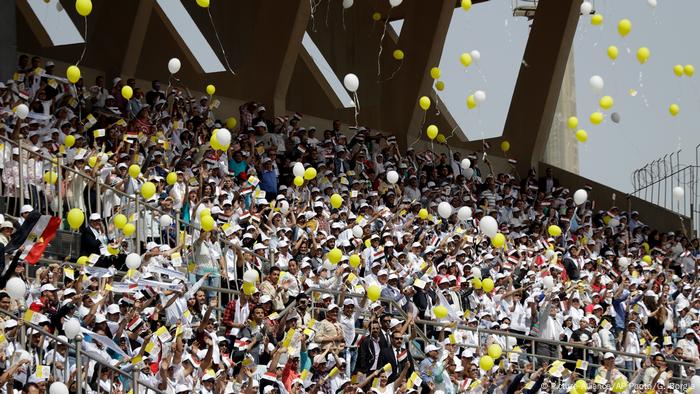 Thousands of people in the crowd released balloons as Francis led the open-air mass
Helicopter gunships circled overhead as part of heavy security measures for Francis' visit, which comes on the heels of three church bombings in December and April that killed dozens of worshippers.
"Francis' visit is a great present of God," Gabriel Romanelli, a Catholic Egyptian man, told news agency DPA.
"After so many attacks, it is a sign of trust," he added.
Call for inter-faith dialogue
At the end of the Mass, Francis blessed Egypt as one of the earliest countries to embrace Christianity, repeating his call for tolerance while decrying religious violence.
"True faith leads us to protect the rights of others with the same zeal and enthusiasm with which we defend our own," he told the crowd.
"God is pleased only by a faith that is proclaimed by our lives, for the only fanaticism believers can have is that of charity! Any other fanaticism does not come from God and is not pleasing to him!"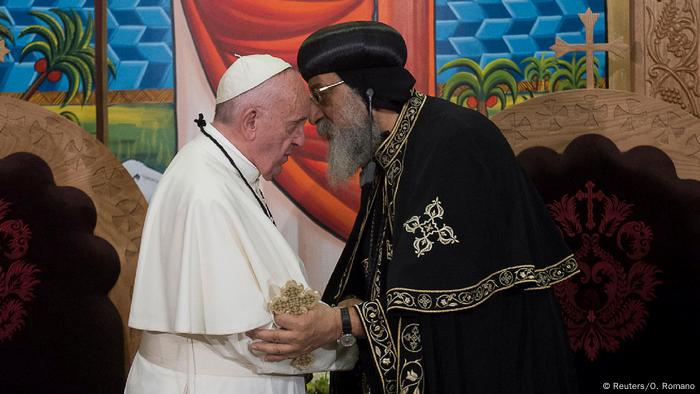 Francis embraced Coptic Pope Tawadros II at a service for bombing victims on Friday
His appeal echoed comments he'd made one day prior where he urged Muslim leaders to unite in denouncing religious extremism.
On Friday, Francis met Coptic Orthodox patriarch Pope Tawadros II, taking part in an emotional Mass at the church hit in the December suicide bombing. The two religious leaders prayed at a makeshift shrine for the attack's victims, who were mostly women.
Egypt has been under a three-month state of emergency since two bombings in Tanta and Alexandria killed 45 Coptic Christians attending Palm Sunday services. The attacks were claimed by the so-called "Islamic State" (IS) group.
Francis is due to lunch with Egyptian bishops and lead prayers at a Catholic seminary before flying back to Italy in the afternoon.
Francis's visit comes 17 years after Pope John Paul II became the first Vatican pope to visit the Arab world's most populous nation.
rs/kl (AP, AFP, dpa, Reuters)