Polish President Andrzej Duda said he hopes his citizens can "rebuild a sense of community," in comments to the commercial Onet.pl outlet on Sunday.
His call for calm came after the Senate edged closer on Saturday towards a showdown with the European Union by approving new measures that critics fear will put the Supreme Court under the control of the ruling Law and Justice (PiS) party.
Duda agreed to discuss the bill with Poland's top judge, Malgorzata Gersdorf, on Monday before making a decision and still has 21 days to decide whether to veto it or send to the Constitutional Court for review.
Read more: Lech Walesa tells protesters to fight judicial reform
"My role is to look for common elements so that we are together, regardless of our views," he added, admitting that it was "a very difficult task."
"I am not naive and don't believe in Utopia. Not everyone will always agree," he said.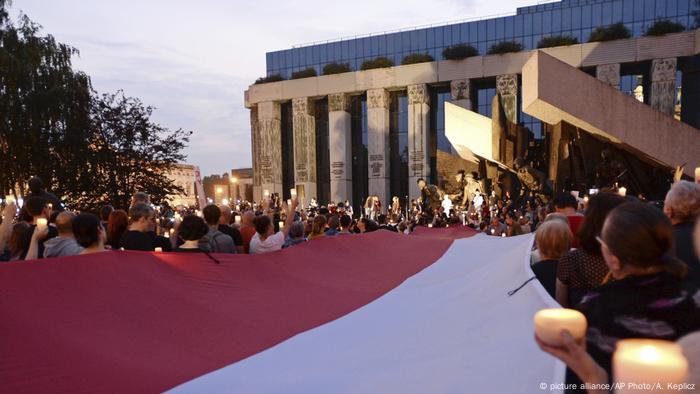 Protests at the reform have continued over the weekend
A rock and a hard place
As a former member of the ruling PiS party, Duda has not shown much inclination to upset his political masters in the past.
Jaroslaw Kaczyski - PiS' leader and architect of the multifronted assault on the judicial institutions that he labels relics of the communist era - is unlikey to budge, and the EU has shown itself unable to wield much more than threats over previous contraventions of democratic norms in Poland.
The new judicial reforms would effectively place Poland's Supreme Court under political control, with MPs able to retire and appoint judges as they see fit. In its current form the bill calls for the firing of all Supreme Court judges, bar those already appointed by PiS Justice Minister Zbigniew Ziobro.
To date, judges have been selected by an independent committee which includes a handful of politicians.
Read more: 'Someone has stolen Poland and its values'
Protests continue
Meanwhile, mass protests in reaction to the bill continued for a second day across Poland on Sunday.
An opinion poll for private television station TVN on Friday found that 55 percent said Duda - who went on vacation despite the crisis - should veto the judicial overhaul and 29 percent wanted him to sign it.
PiS has rarely backed down since it came to power in late 2015, although did so over controversial abortion legislation earlier this year when faced with mass protests.
External leverage
Voices from outside Poland, mainly the EU and US, are calling on the ex-law professor to rethink the legislation.
Germany has voiced its fears over the contested judicial reforms. Jens Gnisa, chairman of the German Association of Judges, told broadcaster RNZ that Poland was moving towards a "politically controlled judiciary, in which compliant judges are guided like puppets."
In Brussels, the European Commission has threatened to trigger Article 7, a sanction law intended to deter "serious and persistent violations" of the EU treaty's fundamental values. Should it pass, Poland would have its voting rights as an EU member state suspended.
EU sanctions would require unanimity from the bloc's 28 member nations, and Hungarian Prime Minister Victor Orban said on Saturday he would fight to defend Poland from what he called the EU's "inquisitorial campaign."