Poland's lower house of parliament approved a draconian new media law on Wednesday, which if fully ratified could turn the country's public broadcasters into mouthpieces for the conservative Catholic government.
The bill, which was only introduced Monday evening, would transfer the power to appoint the heads of public broadcasters to a government ministry.
The bill which would take effect on the president's signature, would mean the immediate dismissal of the current heads of Poland's public broadcasters.
Bill gets slammed
International media rights organizations poured scorn on the proposals.
In a joint statement, Reporters Without Borders, the European Broadcasting Union, the European Federation of Journalists and the Association of European Journalists said they were "outraged by the proposed bill, hastily introduced by the majority party in Poland."
The legislation was drafted "without any consultation, abolishing the existing safeguards for pluralism and independence of public service media governance in Poland," they said.
The European Commission sent a letter to two Polish ministers on Wednesday expressing concern over the proposed law, a spokesman for the EU executive said, another sign of disquiet in Brussels over Poland's troubling new political path.
European Commission Vice President Frans Timmermans sent a letter asking the Polish government for information about the media bill, as "freedom and pluralism of the media are crucial for a pluralist society in a member state respectful of the common values on which the union is founded."
It is the latest controversial bill introduced by the ruling Law and Justice (PiS) party, which ousted the governing centrist party by a wide margin in the October election.
Assault on judiciary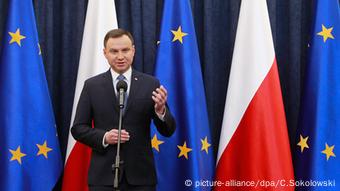 Poland's President Andrzej Duda says he has a mandate to change the country
On Monday, PiS-backed President Andrzej Duda passed into law a reform of Poland's top constitutional court, despite mass protests and claims by the opposition that the changes threaten judicial independence.
Under the proposed new media legislation, senior figures in public radio and television would in future be appointed by the treasury minister, and no longer through contests by the National Broadcasting Council.
The euroskeptic PiS rejected criticism that its policies are undermining Poland's democracy. The party says it has a broad mandate to redesign the country to reflect its Catholic values and independence from European Union headquarters in Brussels.
The European Commission letter asked Poland's foreign and justice ministers to explain how the new law would take existing EU rules on media freedoms into consideration.
The Commission will discuss the recent developments in Poland at the next meeting of commissioners on January 13.
bik/bk (AFP, Reuters)