The alleged leader of a terrorist cell planning attacks in Germany was reported to have trained at a militants' camp in the Middle East, police said Friday. Photos of that training led authorities to investigate a possible link between the three Algerian suspects arrested this week and the November 13 terrorist attacks in Paris.
"We are investigating whether there is a link to the Paris attacks," police spokesman Stefan Redlich said.
On Thursday, police across Germany carried out a series of coordinated raids that led to the arrest of three people suspected of ties to the so-called "Islamic State" (IS) terrorist group. Over 450 officers were deployed during the Berlin operation, while a similar operation in the state of North Rhine-Westphalia ended in the arrest of a 34-year-old Algerian man. The man's wife was one of the other two people arrested.
The man, known only as Farid A. in compliance with German privacy laws, had used his real name and three fakes ones during his time in the country. He and his wife had apparently been posing as refugees from the Syrian city of Aleppo.
Key evidence discovered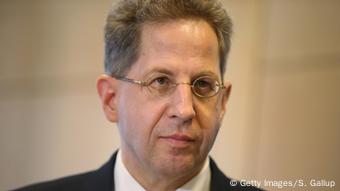 Hans-Georg Maassen, Germany's head of intelligence
Also on Friday, authorities released the crucial bit of evidence that led to raids in the first place: photos showing Farid A. receiving terrorist training in Syria.
"The photos are the reason we took the tipoff about the planned attacks so seriously," a spokesman for the Berlin police said.
The photos also led authorities to examine the group's possible connection to a larger terrorist network. The two men arrested, as well as two other men encountered during the raids but not detained, are being investigated for planning violent acts against Germany.
One of the men not arrested is also suspected of ties to a terrorist cell in an area of Brussels that served as the home base for some of the perpetrators of the Paris attacks.
Germany on 'high alert'
Meanwhile, Hans-Georg Maassen, the head of German intelligence, said on Friday there was no evidence of a possible terrorist attack in Germany in the near future, although authorities were still on high alert.
He did say, however, that some IS militants have slipped into Germany disguised as refugees.
"We are in a serious situation and there is a high risk that there could be an attack. But the security agencies, the intelligence services and the police authorities are very alert, and our goal is to minimize the risk as best we can," he said.
blc/sms (dpa, Reuters)