There are about 4,000 offshore wind turbines in EU waters, most in the North Sea, producing 72 percent of the continent's wind electricity. Turbines in the Irish Sea and the Baltic Sea contribute 16 and 12 percent respectively.
But the balance could be about to shift to the Baltic after Poland's upper house of parliament recently approved the removal of clean-power investment obstacles in a new renewable energy law. And others in the Baltic region are following suit.
Warsaw goes green
The Polish electricity transmission system operator PSE said as much as 8 gigawatts of offshore wind capacity could be installed in Poland, with 4 GW of that operational by 2026/27.
Poland is aiming to meet its EU commitment of 15 percent of renewables by 2020.
As offshore wind costs fall on economies of scale and the EU ratchets up the cost of the bloc's carbon dioxide emissions permits to discourage the polluters, some of the bigger energy players are moving into the sector.
Poland's installed wind power capacity, including offshore, is about 6.4 GW. By comparison, Germany has about 56 GW.
In one recent move, Mercedes-Benz signed a power purchase agreement (PPA) to buy power for its manufacturing facility in Poland from a 45-megawatt wind farm operated by VSB Energie Odnawialne Polska.
European wind industry body WindEurope believes the Baltic Sea region will soon witness a corporate renewable energy PPA revolution.
Job creation
The Polish wind industry supports 12,000 jobs.
According to a 2016 McKinsey & Company study, the development of 6 GW of offshore capacity in Poland — the 2030 target set by the Polish Wind Energy Association (PWEA) — could create 77,000 new jobs and contribute about 60 billion zlotys (€14.1 billion, $16.3 billion) to the economy.
Meanwhile, state-controlled Polish energy group PGE has seemingly, though not officially, abandoned its plans to oversee the country's first nuclear power station to focus on wind farms in the Baltic Sea.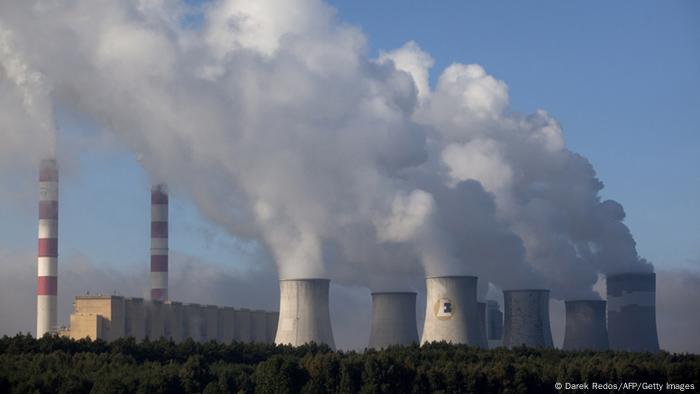 An increase in Poland's wind power capacity will help the nation reduce the share of coal in its overall energy mix
By diversifying sources used to generate power and incorporating offshore wind, Poland may be able to reduce the share of coal in its energy mix even below the 60 percent currently expected by the government in 2030, Monika Morawiecka, PGE's director of strategy, said at the Krynica Economic Forum in southern Poland.
PGE wants to invest billions of zlotys in the construction of wind farms in the Baltic Sea by 2030 and have a production capacity of 2.5 GW.
"The costs of green energy technologies are falling all the time," Morawiecka said. "They start to be competitively priced in relation to such sources as gas or coal. In Poland, the costs of raising capital for such investments are still higher than in the West, but these differences are gradually decreasing."
Norwegian energy firm Equinor, previously Statoil, is buying 50 percent stakes in offshore wind projects totaling 1.2 GW being developed by Polish energy group Polenergia.
Meanwhile, Polish oil refiner PKN Orlen also got into the game this March, launching a tender seeking the development of a preliminary technical concept for up to 1.2 GW in wind farms in the Baltic Sea.
Government now on board
An amendment was approved in August by the upper house of the Polish parliament to support more investment in green energy.
"For sure, for us this [35 percent minimum threshold] would be a very difficult challenge. From the 2030 perspective it will be difficult, if not almost impossible, to meet," Polish Energy Minister Krzysztof Tchorzewski said.
Norway's Equinor is considering building an offshore wind farm with floating turbines to supply electricity to two North Sea oil fields. The project at the Gullfaks and Snorre oil fields would cost around 5 billion Norwegian crowns (€510 million, $592 million).
Iberdrola Renewables Offshore plans to invest €1 billion in developing two offshore wind farm projects in the Baltic Sea after winning 486 megawatts of capacity in a recent auction, following Germany's move to grant approval for offshore wind parks generating 1,610 megawatts.
The total amount of electricity that could be produced by the parks is the same as the power generated by one large nuclear power station, or two big coal-run power plants.