Poland's ruling Law and Justice Party (PiS) suffered a blow in Sunday's mayoral runoff elections, according to exit poll data.
The second-round vote between the top two vote-getters from the October 21 first round took place in 649 cities, towns and municipalities. Official electoral returns are not expected until Monday.
Prior to the vote on Sunday, the populist anti-immigration PiS had lost mayoral posts in Warsaw, Poznan and Lodz to a centrist pro-European Union coalition, led by the Civic Platform party. On Sunday, the ruling party lost at least three more of Poland's largest cities to the opposition.
Those cities were Krakow, Gdansk and Kielce, where candidates obtained more than 64 percent of the votes, according to exit polls. In the election campaign, the PiS had placed strong emphasis against immigration and for robust economic growth.
Read more: Polish President Andrzej Duda calls for stop to Nord Stream 2 gas pipeline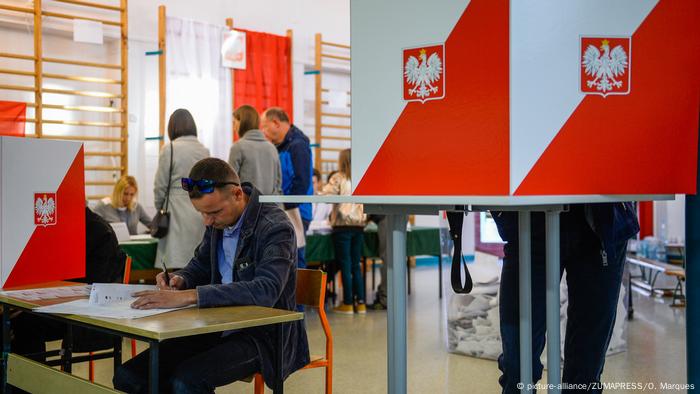 Voting in Warsaw
Rural vs urban divide
The results of Poland's regional elections have highlighted the existing rift between urban and rural voters. While cities have been centers of concentrated opposition to the Law and Justice-led government, PiS has solidified its support in rural areas.
Despite losing in the cities, the ruling PiS garnered 34 percent of the total regional assembly votes on October 21, while the opposition coalition obtained 28 percent. The PiS will be the strongest party in nine out of 16 regional parliaments, in six of which it has the absolute majority.
Read more: 'Russia is the only conceivable threat to Poland'
Voters in rural areas have responded favorably to the ruling party's policies, such as lowering the retirement age and improving benefits for families with children. Additionally, the Catholic Church has been instrumental in mobilizing support in the countryside.
With results as they stand, PiS could well be poised to continue ruling the country after the 2019 national elections. But should the parliamentary supermajority disappear, the party will lose a crucial tool for changes to constitutional amendments.
jcg/jm (AP, AFP)
Each evening at 1830 UTC, DW's editors send out a selection of the day's hard news and quality feature journalism. You can sign up to receive it directly here.