Minister Mariusz Blaszczak was commenting on Wednesday on Poland's refusal to admit 200 Chechens trying to enter from Brest, Belarus - the EU's external border. Speaking on Polish TVN24 Blaszczak said: "The point is to ensure security to Europe."
Blaszczak said that as long as he was the interior minister and the conservative Law and Justice (PiS) party was in power "we will not expose Poland to the threat of terrorism," without explaining why he linked the Chechens to terrorism.
Poland has rejected the EU plan for bloc members to share responsibility for sheltering hundreds of thousands of migrants from Syria, the Middle East and Africa.
A group of Chechens camped Monday night in Brest protesting the denial to enter Poland and demanded to speak to Polish authorities, Poland-based Belsat TV reported. The group of Russian citizens includes children, women, and elderly people. They reached the border checkpoint in the countryside near Brest on August 29 and set up camp after being refused entry into Poland.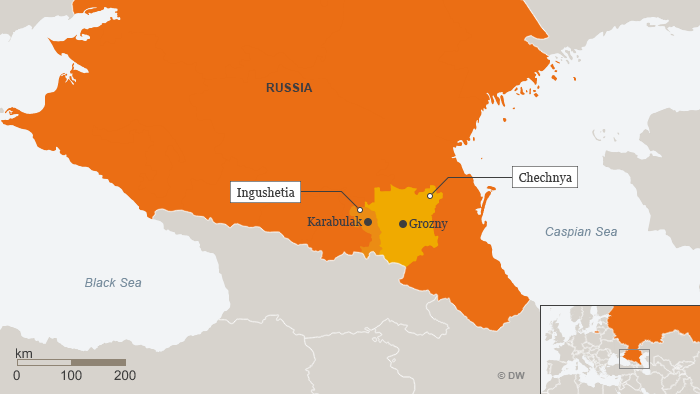 A spokesman for Poland's local Border Guard, Dariusz Sienicki, told the Associated Press Wednesday that the group had returned to Belarus.
Poland was receptive to Chechens during Chechnya's war against Russian forces, which ended in 2009.
Sienicki said that 6,000 Russian citizens, mostly Chechens, have been admitted to Poland so far this year, a 150-percent increase from the same period last year. During the same time, some 30,000 people have been denied entry.
Blaszczak: a minister with form
Blaszczak said in July that multiculturalism, political correctness and mass migration were responsible for terror attacks in Europe.
Speaking about France, which has seen over a dozen Islamist terror attacks in less than two years, the minister said that by rejecting mass migration his government hopes to avoid the mistakes made by many Western governments.
Declaring the basis of European values and culture as Christianity, Blaszczak argued it cannot coexist with the culture and values of newcomers to the continent, and that multiculturalism is "wrong" as a concept.
(Don't) Go West!
German Chancellor Angela Merkel is reportedly increasingly worried about the country's border with Poland, where the number of illegal crossings has risen, with many asylum seekers from Chechnya - a predominately Muslim republic where separatists have fought several bloody wars against Russia - making the journey.
Many people travel by train from Belarus and enter the Schengen area in the Polish city of Terespol where they can file an application for asylum. Since the German border with Poland is open under the Schengen agreement, there are no official statistics on how many have crossed into the country this way.
Nationwide, the number of Russians seeking asylum in Germany grew six fold this year alone, jumping from 307 in January to 1,835 in June, according to Germany's Federal Office for Migration.
jbh/kms (AP, RFE/RL)