Polish media on Monday led with the story of a Polish national living in Norway who was arrested in Poland on terrorism charges, after having spent several months in Syria fighting on behalf of the "Islamic State" group. The 26-year-old man was apprehended in the central city of Lodz. A spokesman for the local public prosecutor's office told a news conference he could face up to six years in prison.
In the wake of the Paris terrorist attacks, the case - and the implication that IS was already active in Poland - focused the anxieties of many ordinary Polish citizens on immigration from non-European countries and how it might affect them personally. The former liberal cabinet of Prime Minister Ewa Kopacz agreed to accept 7,000 immigrants. It also pointed out that in the 1990s, 80,000 Chechens found a home in Poland and were successfully integrated into Polish society.
But that has not convinced all Poles. "I'm really worried that if we allow as many immigrants as the outgoing government said it would, how can we protect ourselves against radicals and fanatics among them? How can we prevent what happened in Paris from happening here? We don't have the experience of how to screen refugees and how to control what they do," a clearly perplexed Warsaw pensioner in her 60s told DW, having heard a series of public announcements on the Polish capital's metro urging the public to remain vigilant and to report any dangers to their safety.
'Alien values'
Indeed, the specter of an influx of non-Christians representing values alien to an overwhelmingly Roman Catholic Polish society was frequently raised by right-wing politicians during the country's recent parliamentary election campaign. At one pre-election meeting Jaroslaw Kaczynski, the leader of the victorious Law and Justice (PiS) party, ignited controversy by suggesting the immigrants might bring contagious diseases to Poland with them.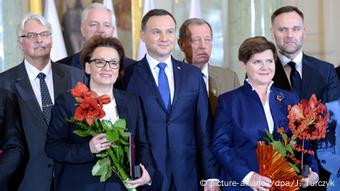 Voters gave the new right-wing Polish government a strong mandate in recent elections
But in contrast to a couple of hawkish anti-immigrant pronouncements over the weekend by politicians nominated for the posts of cabinet ministers in Poland's new conservative government, on Monday more moderate PiS politicians were quick to tone down these statements. PiS Senator Jan Maria Jackowski told the TOK FM radio station that future European affairs minister Konrad Szymanski had not yet received his official nomination when he was quoted by Reuters to the effect that Poland saw no political possibilities to implement the former cabinet's decision to accept 7,000 refugees. Jackowski hinted that these were the private views of a minister-to-be, and that the new Polish government's intentions were misrepresented. "At the moment we don't know the details of the former government's agreements. We don't know whether the figure includes the family members of refugees, or whether more family members could join them," Jackowski was quoted as saying.
Incoming interior minister Mariusz Blaszczak told Polish Radio that Poland should discuss the question of accepting immigrants and that it should concentrate on helping Christians in the Middle East. "The entire philosophy of the 'Islamic State' is directed against them. They are bestially murdered. You cannot allow people who bring death to come to the European Union under the guise of refugees."
On a practical note, Blaszczak said that Poland needed to draw conclusions from the Paris attacks for important world events it is to host next year, including a NATO summit in July in Warsaw.
Hawks or pragmatists?
Before he received his nomination for the post of Poland's new foreign minister, Witold Waszczykowski told the TVN24 network: "Security is the number one criterion in deciding all cases of people who would like to settle in Poland. There is no compromise which could be made at the expense of the lives of Poles." Only those refugees who can document their past and their identity can be accepted; anything dubious in their past will disqualify them, Waszczykowski added.
Commenting on the reactions of Polish politicians to the French tragedy, the center-right daily Rzeczpospolita urged restraint in public statements. It said that Polish opinion currently tends to be focused on two extremes: those who are almost unconditionally open toward immigration and those who are dead against it. Neither is good for Poland, Rzeczpospolita pointed out.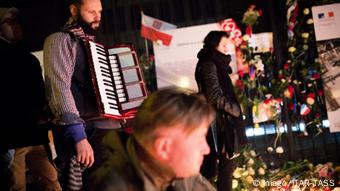 Varsovians mourned the victims of the Paris attacks
Polish political analysts are divided in their views on how the new Polish cabinet is likely to handle immigration.
"PiS politicians may now sound hawkish. After all, some came to power on the strength of strong anti-immigrant rhetoric. They are still likely to make a controversial comment or two," foreign policy expert Grzegorz Dziemidowicz of the Collegium Civitas in Warsaw told DW. "But grudgingly, showing a lot of restraint, and pointing out the negative angles of immigration, Poland's new conservative government is likely to accept the formerly negotiated quotas, because otherwise the repercussions from the EU might be too serious."
It will be interesting to see which of the divergent views within the EU Warsaw is likely to follow, according to Andrzej Jonas, editor-in-chief of the Warsaw Voice magazine. "It cannot be excluded that pressure for change of the present stance on immigration may build up within the Union. A battle between countries that are in favor of it and those against it may ensue. Given that public opinion in Poland has shifted toward the right, one can no longer expect Poland will stand hand-in-hand with Germany on the issue, as was the case with the former liberal government. A tougher line may be adopted."