DW: Water is becoming an increasingly scarce resource in Pakistan. Reports by the United Nations Development Program (UNDP) and the Pakistan Council of Research in Water Resources (PCRWR) warn that the country will reach absolute water scarcity by 2025. How is climate change exacerbating water shortages in Pakistan?
Malik Amin Aslam: You have raised a very important issue. Pakistan is vulnerable to water problems. There are many facets to it; sometimes we have too much water, resulting in floods, and at other times we have too little water as we fail to store adequately. We have to tackle both the problems by putting in place good water management policies. The present government is totally committed to tackling Pakistan's environmental challenges. We're going to initiate a project called "Recharge Pakistan," which addresses both the issues.
Read more: Crowdfunding for dams — why Pakistani PM Khan's drive is not feasible
The plan involves using the excess flood water to recharge our ecosystem and ground water supplies. It's done by diverting the water into our natural wetlands lying along the Indus river bank.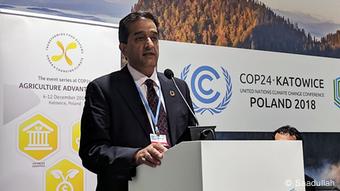 Malik Amin Aslam: 'The notion that environmental protection is always going to be at the cost of the economy is not true anymore'
The concept for this new project has already been announced by the prime minister. We're now in the stage of setting up a feasibility study, which should take about six months, and after its conclusion we expect implementation work to begin on the project.
But a single project is not enough; we need many more such projects. We also need to increase and improve water conservation as climate change is making weather and climate patterns increasingly unpredictable.
Many countries are facing the challenge of balancing their populations' economic and environmental needs. What can PM Khan's administration do to boost Pakistan's economic development while not jeopardizing its ecology?
An alternative path for development is possible, which balances both environmental and economic demands. It would focus on promoting renewable energy, enhancing forest cover worldwide and expanding clean and efficient public transportation, among other things. These actions will create green jobs, new industries and boost economic growth, while saving the environment. So this notion that environmental protection is always going to be at the cost of the economy is not true anymore.
Read more: Ganges under threat from climate change
Observers say the Pakistani federal government should offer more direct support to provinces to implement environmental projects and promote capacity building of institutions at the grass-roots level. How does Khan's administration view such suggestions?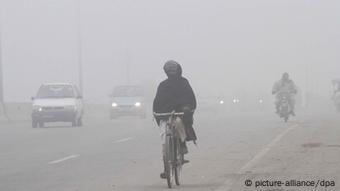 Smog is a perennial problem in many South Asian cities
Environmental protection is not a divisive issue in Pakistan. Both the federal and provincial governments are on the same page when it comes to tackling the problems associated with climate change and pollution. In terms of financing the various environmental projects, we're working on a joint partnership model, with the federal government providing 50 percent of the funds while the provincial administrations chip in with the rest. We will continuously monitor the various projects and their implementation.
Climate change and environmental problems do not abide by political borders. Many of the problems that Pakistan is confronting are regional. So how can the Pakistani government bring about transboundary collaboration, for instance between Pakistan and India, tackle environmental issues?
This is a very important issue, especially with regard to air pollution in cities like Lahore and Delhi. Pollution knows no political boundaries. In fact, during my meeting with David Grimes, the head of the World Meteorological Organization (WMO), in Katowice, we discussed this issue. We're trying to engage with India on this topic.
Malik Amin Aslam serves as adviser to Pakistani Prime Minister Imran Khan on climate change.
The interview was conducted by Irfan Aftab. It has been edited for clarity.