For six months of the year, Kevelaer is a quiet little village on the Dutch border. But from May 1 to the end of November, its streets, parking lots and train station are jam-packed with people. An annual 800,000 religious devotes come to pray at a shrine for the Virgin Mary, "the comforter of the grieved." Young and old come to Kevelaer, said Karl Hagemann from the Catholic Diocese of Münster.
"Other aspects of Catholic tradition, like confession, are dying out in Germany," said Hagemann, "but pilgrimage is booming."
Guiding the flock along different ways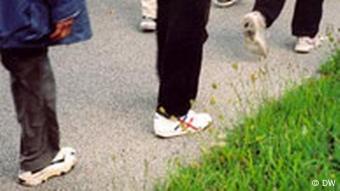 Three days with cross and banner
As far back as the 13th century, Christians from all over Europe hiked through pelting rain and blinding sun to see the holy relics in Trier, Aachen or Cologne. A laborious trip was a sign of strong faith. Most of today's pilgrims take an easier route: day tours in air-conditioned buses, trains and cars.
"We have a group of motorcyclists that arrive in July," said Rainer Killich, head of the Kevelaer pilgrimage bureau. Five cantors are on permanent staff to assist the pilgrims with prayer services and nightly vigils.
Hermann-Josef Geus prefers the hard road to Kevelaer. For the past 45 years, he has marched with the Kevelaer Bruderschaft Bonn, a 307-year-old brotherhood dedicated to the pilgrimage. Three days there, three days back, in the heat of July, praying and meditating along the way.
"The first time, I prayed that I would pass my apprenticeship test," Geus said. "And then I did. So I went back the next year, in thanks. And from then I just kept on going."
Seeing the sites
But what is a pilgrimage anyway? And how can you tell a spiritual pilgrim from a sight-seeing tourist?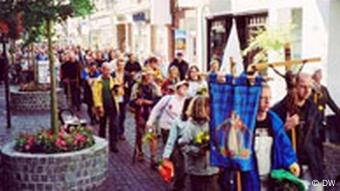 Thousands walk the streets of Kevelaer
"There aren't usually any outwardly signs to go on anymore, no pilgrim's attire," said Karl Hagemann from the Münster Diocese. "The pilgrims pray in their buses or on the road, attend a special mass at the site maybe. But there is the tourist aspect as well. Afterwards they still go to the local café for coffee and cake. The tourists might have coffee first, and visit the church afterwards."
Over one and a half million visitors travelled to the 23 official pilgrimage sites in the Münster Diocese last year. But there are no overall statistics for the number of pilgrims underway annually in Germany.
"A pilgrimage is a trip for spiritual enlightenment, a path to a site for prayer," said Manfred Becker-Huberti of the Archdiocese of Cologne. "The sites are very different: holy relics, or a place where an epiphany -- communication with saints -- took place, sometimes even a devotional image of the Virgin Mary. Some are open only in the pilgrimage season, which has its roots in pagan May traditions, others are open year round. The faithful themselves turn a place into a pilgrimage site by going there."
Millions of young people flocked to Cologne last summer for World Youth day. Their positive feedback has inspired the Archdiocese of Cologne to reinstate its famous medieval pilgrimage to the remains of the Three Wise Men in the Cologne Cathedral.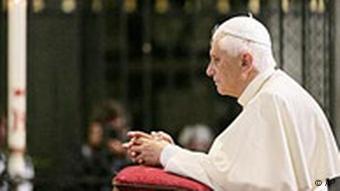 Pope Benedict XVI and others pilger to the Three Wise Men's shrine in Cologne
"There was a huge demand to get close to the relics," said Manfred Becker-Huberti. "We have invited European diocese to come for a visit in September. They will be able to get very close, to bask in the aura of the Three Kings."
Tradition and religious trend
Pilgrim Hermann-Josef Geus has witnessed the ups and downs of pilgrimage in Germany. Following World War II and into the mid 1970s, Christians began to leave the church, and visitors to traditional sites like Altöttingen in Bavaria dropped to record lows. Only 35 people trekked in Geus' group in 1974. Last year, 160 pilgrims made the trip from Bonn on foot, another 600 met the group in Kevelaer to celebrate.
"The majority are older, between 50 and 70," Hermann Geus said. "But we have a strong group of young people as well, in their mid-20s."
"People, especially young people, want to celebrate their religion as a group ," Karl Hagemann from the Münster Diocese agreed. "It brings them together, gives them a feeling of community."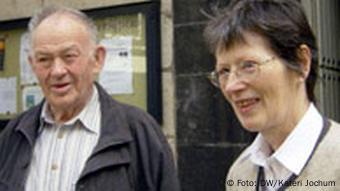 Hermann-Josef und Erika Geus, married for 36 years
Geus can attest to this from personal experience. He went to Kevelaer looking for the Virgin Mary and found someone else instead.
"I met Erika on her first pilgrimage to Kevelaer in 1968. She was only here in Bonn for a year, doing an apprenticeship. She usually went to Trier to pray, but that year she couldn't get the time off, so she came with us. I guess you could say it was luck -- or a divine coincidence."
Two years later, the two were married. It was a match made in heaven.