Bonn's cherry blossom season was soured over the weekend after an unknown person or group of people threatened to hammer 7,000 copper nails into the trees.
On Sunday, numerous posters appeared in the western German city's old town, or Altstadt, neighborhood, where the Japanese cherry trees are located, bearing a threatening message.
"7,000 nails — to all in Bonn. If the cherry blossom festival isn't immediately enjoyed and the photo madness isn't stopped, we'll drive 7,000 copper nails in the trees. — FF," the posters stated in letters clipped from newspapers and magazines.
Police in Bonn launched an investigation into the incident, but said they were examining possible "coercion" and not a hard threat.
Read more: Should we be worried about our cherry blossoms because of climate change?
"We are taking it seriously," Bonn police spokesman Robert Scholten told DW on Tuesday, noting that the investigation is likely to be tricky, as there were no witnesses and "the evidence is inconclusive."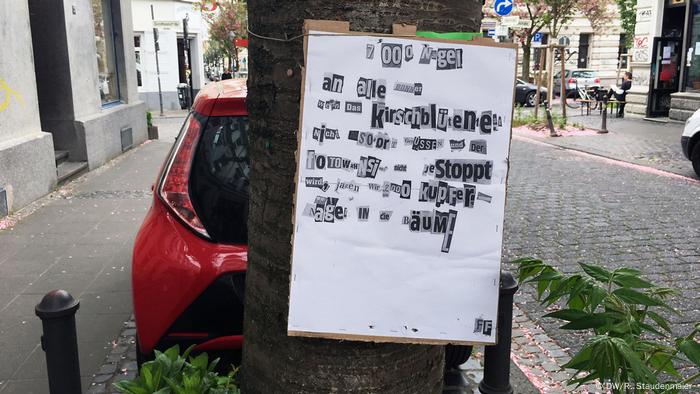 The poster resembled a ransom note, with the letters clipped from newspapers and magazines
'It wouldn't be good'
Both police and the city of Bonn were skeptical about whether the posters indicated an actual risk to the trees. They acknowledged, however, that there was little that could be done should someone attempt to follow through on the threat.
"It wouldn't be good," Andrea Schulte from the Bonn city press office told DW. She noted that copper is poisonous for the trees and that "parts of the tree could die" if copper nails were hammered into them.
Read more: Selfies forbidden: Replace your smartphone with a pencil and a sketchbook
Schulte emphasized that the cherry blossom season has been very peaceful and that no complaints have been registered with local authorities about the traffic or noise caused by visitors so far this year.
Tourists concerned for trees
During the two weeks when Bonn's cherry blossoms bloom in the spring, thousands of people from around the world flock to see them. Tourists clog the neighborhood's narrow cobblestone streets armed with selfie sticks, cameras and mobile phones.
Disgruntled drivers and bicyclists try to quickly maneuver around the crowds or make their displeasure known with ringing bells and honking horns.
Read more: Japan prepares to party under the cherry blossoms
"I can see it from the locals' perspectives that it might be too disruptive," said Tara, a 30-year-old tourist from Australia. She added that there's nothing wrong with people "trying to make memories" by taking pictures.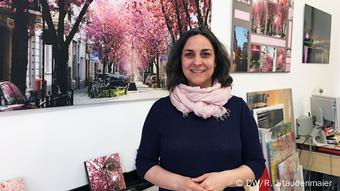 Harlos and other small business owners benefit heavily from the foot traffic the cherry blossoms bring
Others in Altstadt pointed out that the person or group behind the pictures hadn't really thought through their threatening plan.
"The problem comes from the people and not from the trees," Irina, a local student in her 20s, told DW.
"It's a pretty stupid threat," fellow student Sophia said. "There are so many tourists coming. There's so much money coming into the city because of the cherry blossoms. Why would you want to harm it?"
'Joy' for businesses
Though the frenzy over the cherry blossoms can create some headaches for residents and commuters, local businesses welcome the blooming season every year.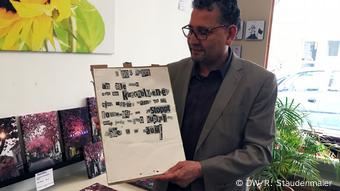 Restaurant owner Ömer Pire holds one of the posters after it was removed by police and locals
"When there's no cherry blossom season, you don't see any people," restaurant owner Ömer Pire said. He and his family own Döner Haus and three other restaurants in Altstadt and welcome the boost the cherry blossoms bring each year.
"It's a joy for small businesses and for restaurants," he said. "It doesn't get better than this."
Victoria Harlos, owner of the photo printing shop Print & Paint in Altstadt, dismissed criticism about the number of people taking pictures on the street, saying they've been doing it for years. The only difference is now the majority of people aren't professional photographers.
"I think it's great, it's a great atmosphere," Harlos said, smiling. "There aren't too many people who don't think it's great, but they are louder."
Each evening at 1830 UTC, DW's editors send out a selection of the day's hard news and quality feature journalism. You can sign up to receive it directly here.